Girls tennis team defeats Glenbard West
The girls varsity tennis team hosted Glenbard West on Tuesday, Sept. 12 in Hinsdale. The varsity team swept 9-0 after everyone won their matchup.
Sophomores Caroline Ahn and Caroline Kotarski led the way by defeating their opponents 6-0 and 6-1.
"Glenbard West is a team we always have to get prepared to play. I specifically paired up Carolyn Ahn and Caroline Kotarski to have a rematch. Last year at Glenbard West, they barely won 10-7 in the third set match breaker," said Shawna Zsinko, head coach. "The Glenbard West crowd on their home court was difficult to deal with, and on our court they had a lot of parent representation as well, but they didn't have much to cheer for. [Junior] Olivia Oosterbaan also had a tough match at first singles. She had to play solid and limit her unforced errors in order to change the momentum and come up with a win 6-3, 6-3."
Despite a large turnout from Glenbard West parents, the players received a boost from the rest of their team and Red Devil Nation.
"We are always super intense and hyped up," said Amanda Cashman, senior. "Our opponents usually get mad because of how loud we cheer each other on, but it creates a fun atmosphere where we are all excited to play and motivated to win."
This year's team consists of three freshmen, five sophomores, six juniors, and four seniors. As always, the seniors have big expectations.
"I expect the seniors to lead and be a calming force with the younger girls on the team," Coach Zsinko said.
The team has the same goal this year as every year: win state. They have claimed the Illinois State Championship consecutively for the past four years.
"Our team's expectations for the rest of the season is to work out hardest to win conference, sectionals and then hopefully state again," said Shalini Sahgal, junior.
So far the team has only dropped a few matches, and they believe they can reach their goal.
Though everyone on the team defeated their opponent individually, members still seek room for improvement.
"Even though everyone won, most of us didn't play our best, and almost everyone could've done better," Cashman said.
The team has five more matches, with two against Lyons Township before West Suburban Conference play begins on Oct. 6.
Leave a Comment
About the Writer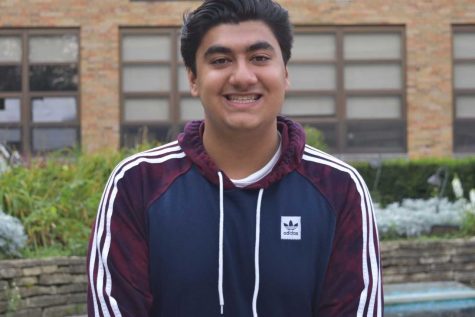 Kabir Sawlani, Editor-in-Chief
Kabir Sawlani is a senior who enjoys traveling and listening to hip-hop and alternative music. When he isn't cheering for the Cubs or the Bears, you can...