Jade Dragon brings timeless charm
Over 20 years ago, Hinsdale resident Mr. Mike Wychocki returned home from work on his regular evening train, pondering what he wanted for dinner.
"You know what Hinsdale needs?" said Mr. Wychocki after arriving at the station. "A Chinese restaurant."
Much to his surprise, as he began to walk home, Mr. Wychocki's face was illuminated by a neon sign he hadn't noticed before, "Restaurant Open." When he looked above, Mr. Wychocki immediately saw a green and yellow sign, inscribed "Jade Dragon."
Since that day, Mr. Wychocki has been a regular customer at Jade Dragon. The restaurant has been around longer than most restaurants in Hinsdale, dating back to November 1994. The charm of an American Chinese restaurant never ceases to draw customers, which was the original goal of founders Lop Chin, Guan Mei, and Ken Mei.
"Jade Dragon is a local gem," said Suzanne Wychocki, Wychocki's spouse.
As I entered the restaurant, there was a serene feel, complimented by the soft, melodic music in the back. I was brought to a table with my brother, where I noticed the intriguing placemats. Each one was labeled with a short history and diagram of the Chinese zodiac by year. There was also a pot of tea that came with our food, a sign of good hospitality.
We ordered the Jade Dragon Noodle dish. This dish consisted of shrimp, chicken, beef, pea pods, and noodles with a sweet sauce.
"The place is always improving," Mr. Wychocki said. "Service has gotten a lot better over the years."
Mr. Wychocki also pointed out the televisions on the walls. He noted that the place would be great with or without them, considering that the atmosphere was lively enough from the restaurant itself.
With its low prices and casual atmosphere, the restaurant is the perfect place for a simple meal away from home. However, customers can still choose to carry out or, as of last month, have their food delivered.
Jade Dragon is located at 43 S. Washington St., Hinsdale, Ill., 60521.
Leave a Comment
About the Contributor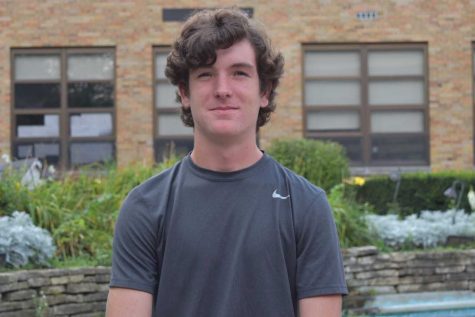 Peter Hughes, Writer
Peter Hughes is a junior who runs cross country and track. If he's not running, it's probably because he's either playing guitar or injured....