Humans of Hinsdale Central Week 6: March to the Polls
On Saturday, Jan. 20, people across the globe gathered to march and protest a variety of issues, such as women's rights and health issues. According to the Chicago Tribune, approximately 300,000 people were at the Women's March Chicago alone. Since this event was so close to school, many students chose to take part. For this edition of Humans of Hinsdale Central, we talked to five attendees to find out why they marched and what it was like.
Tell us about your experience at the Women's March and why you attended the event.
"It was my first Women's March, and the reason why I got into it is because my friend Emma was telling me about it. The first time I realized that I really liked being in that kind of group is when we went to the first [Women's March] meeting. We had to go downtown and we were basically bouncing off ideas about what to say at the march, what kind of signs everyone should make, and who was going to do what. All these grown women and people of different walks of life were so passionate about what they were marching for. Some did it because they were dreamers or others did it because they felt like taking away our rights wasn't acceptable. When I went to the march, I convinced my mom to go because she had never been. After she went to the march she was really passionate about being a woman. It empowered her a lot to be there because everyone was in unison. Every chant that was said during the march had so much feeling and passion. It felt really powerful to be there and just walk with these people and realize that you are trying to make a change for something better."
-Amaris Hernandez, senior
"Why I'm marching and why this is so important to me is because I honestly do feel personally connected to the Women's March. It's not only issues with planned parenthood and getting abortion rights. We are also talking about abuse, harassment, transgender rights and rights for all women of all colors and races. When I was 12, I was walking with some friends and there was a group of men who walked past us saying 'Hey, why don't you pull up your shirt and show me something.' I said 'Excuse me! Excuse me sir! Why would you ever say that to me?' They ended up throwing a cup of water at me while yelling obscenities. I was so confused. I cried, I truly did cry. After this happened, I went home and told my mom and said 'Mom, I don't understand why this happened to me. Why would they say that to me? Why would they do that? Why would they throw that cup of water and yell at me?' My mom was at a loss of words. She didn't know how to tell her 12 year old daughter, who had just been cat called on the streets of Chicago, why that happened. That was basically the first time that I really thought about and felt connected to the idea of being a feminist and wanting to march. It's just such an important thing to me. It was really important to me to go to the march and show my support."
-Lillian Kloubec, sophomore
"Why I am so passionate about women's rights is because I started volunteering at Planned Parenthood last summer. It was really interesting to see all sorts of women and to see all of the kinds of things we can do to help people of all walks of life. There are all sorts of things you can do to volunteer and help. I didn't get to go to the first Women's March, but frankly the pictures were outstanding. It was amazing to see all of these people gathered together and united for a very similar cause, but overall just fighting for something they believed in so peacefully. [This year's march] was so peaceful which was unbelievable. Everyone was so happy and passionate. It's almost
indescribable."
-Emma Rosenberg, senior
"It was my second year going to the Women's March. I had gone last year with my mom, and I went with my best friend this year. I went because I think it's a great place to know that you have other women who think similar things to you. It's not just a place where people are going and hating the president, but it's a place to go to feel comforted. I didn't necessarily go to protest the president because I think that is immature. I went more to signify that I think that there are some important issues that have been put on the back burner as in women's reproductive health and anything in regards to having women of color sitting in actual political seats. I think that was a very big reason why I went this year. I think it was a huge thing that not only I but the women marching had put emphasis on, which was to get women of color into office now and forever."
-Kate Jacobs, junior
"I actually carried a sign that said 'Not All Women Have Vaginas #TransLivesMatter' because I think it is so important to be supporting trans women and to not keep spreading the idea women need to have vaginas or else they're not valid."
-Emily Hines, junior
Leave a Comment
About the Contributor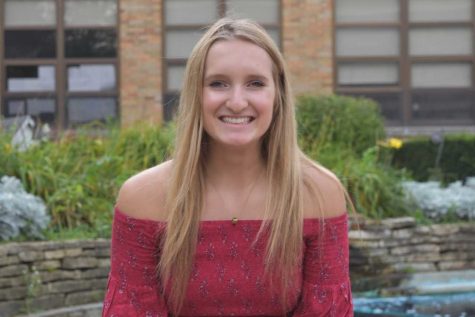 Sydney Seda, Managing Editor
Sydney Seda is a senior who loves to have a good time. You can catch her watching multiple episodes of Grey's Anatomy or volunteering at Hinsdale Hospital....