Roti's build-your-own style provides nutrition and flavor
Roti Modern Mediterranean is a healthy-eating restaurant that combines rich and exotic flavor schemes with balanced and nutritionally-nourishing calories.
With the winter months keeping many students inside, it's refreshing to find restaurants with a health-conscious menu. As I walked into the restaurant, I noticed the efficient use of space and the creative Edison-style lightbulbs hanging from wires above each of the tables. Then, I went to the counter and worked with an employee, who helped me construct a pita sandwich.
"[Roti] is very healthy and organic food. It's great for a post-workout meal," said Angela Sanders, a regular customer.
In addition to chicken roti on my pita sandwich, I had red pepper sauce, hummus, feta cheese, and olives. The sandwich was phenomenal and had a tangy flavor. I felt satisfied but not overfilled. The way the restaurant allowed for me to customize my meal enabled me to satisfy my nutritional needs. I knew that I did not need to worry about overeating because the portion size was reasonable.
"Roti is the Chipotle of Mediterranean food," said Matt Ostrowski, junior.
The way that you can customize your food and the service you get resembles the design of Chipotle restaurants. Rather than having servers, Roti has a self-serve counter service and, like Chipotle, allows seemingly infinite customizations of the dishes they offer. The price range at Roti is affordable and comparable to Chipotle's prices; my sandwich cost about $7, a great deal considering the quality of the ingredients and the substantial amount of food offered.
If you're looking for meals that can be ordered, purchased, and consumed with the same ease as those from Chipotle, look no further than Roti Modern Mediterranean.
Roti is located at 2109 Clearwater Dr. Oak Brook, Ill. 60523.
Leave a Comment
About the Contributor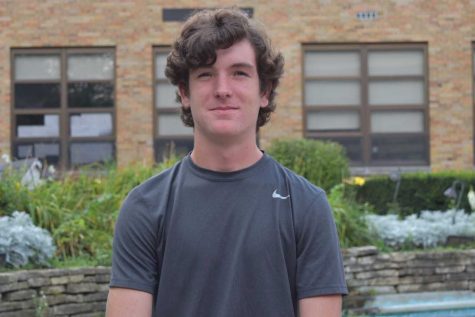 Peter Hughes, Writer
Peter Hughes is a junior who runs cross country and track. If he's not running, it's probably because he's either playing guitar or injured....