Q-BBQ matches casual dining with good food
Q-BBQ in downtown La Grange is a great place for any high school student to get a quality meal at an affordable price. I went to the restaurant on a Saturday night; the place was packed, and I was not able to sit, a sure sign of good business. The wooden counter and tables make for a farmhouse look that contributes to the overall casual vibe in the restaurant.
"[Q-BBQ has] quality food, and I just enjoyed the time otherwise," said Samuel Brandeau, junior.
The menu offers a wide variety of barbecue-type meals, so I decided to order a standard barbecue item: the pulled pork sandwich. The pork was juicy, but not sloppy, which made the sandwich rich in flavor. The barbecue sauce was a balance of savory, spicy, and sweet, as described on a container of Q-BBQ spicy barbecue sauce, which the restaurant sells in bottles.
I also got a side of hush puppies and cornbread. The cornbread was not dry, as some cornbread is, but instead was sweet and flavorful as a cornbread should be. The hush puppies are similar to fried dough, but instead are made from a cornmeal-based batter and was crispier on the outside and not as sweet. They were phenomenal. I was tempted to go back and order a few extra sides of hush puppies to bring home.
"The hush puppies are very good," said Adrian Rodriguez, a customer. "They are my favorite part of coming to [Q-BBQ]."
The service was very timely. I received my bag of food within five minutes of ordering and paying at the counter. The packaging was orderly, with the sandwich wrapped in foil to prevent a potential mess on the car ride, especially with barbecue food, which is predisposed to be a messier food.
The pulled pork sandwich was not as messy as the one I had at Urban Barbecue in Oakbrook Center, and it was just as flavorful. It had mouthwatering, juicy, sweet meat with savory and spicy barbecue sauce. It was simple, but not limited in flavor and meat.
"A lot of [local] students go to Q-BBQ," said Grayson Goodwin, Lyons Township High School sophomore. "The price is good for a high school [student]."
Q-BBQ is a hot spot for many LT students because of its proximity to the North Campus.This demonstrates the accessibility and high-school-friendly pricing of the restaurant itself. Since La Grange is so close to Hinsdale, Central students should definitely try it as well.
Q-BBQ is located at 70 S. La Grange Road, La Grange, Ill. 60525.
Leave a Comment
About the Contributor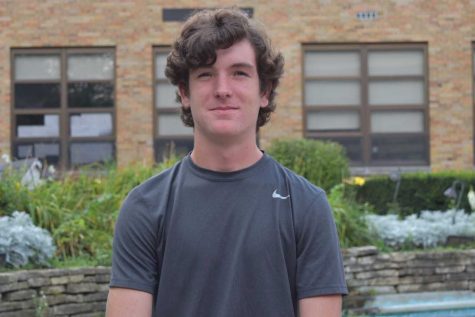 Peter Hughes, Writer
Peter Hughes is a junior who runs cross country and track. If he's not running, it's probably because he's either playing guitar or injured....