Baseball team travels to Kentucky
The junior varsity and varsity baseball teams traveled to Louisville, Ky. on Thursday, April 5 and returned on Saturday, April 7 after participating in the Super Prep Tournament, a round-robin competition held in different high schools throughout the city.
The teams were scheduled to play five games, but the fifth and final game was canceled because of a low temperature. The JV and varsity teams won two games and lost two games all in all.
The first game was a varsity 7-4 win against Beachwood High School from Kentucky. The junior varsity team played the second game on Thursday night and won 13-1 against Our Lady of Providence from Indiana. The junior varsity team played again on Friday morning and lost 12-1 against Trinity High School from Kentucky. The varsity team wrapped up the weekend after losing 4-6 to A.C. Reynolds High School from North Carolina.
"It was really fun to play teams from different states, and it was a good level of competition that I think helped raise our level of play as a team," said Zach Gooding, junior and varsity team pitcher.
In between game action, the players visited Mark's Feed Store for some Kentucky barbecue, and they also went to a University of Louisville baseball game.
"The trip to Louisville was great for the team," said Will DeDobbelaere, junior and varsity team catcher. "We played strong, and I had a ton of fun with my teammates at a barbecue restaurant and at the Louisville baseball game. The games will definitely prepare us for our upcoming conference schedule."
The varsity team's record went to 4-2 for the year, and it has since moved to 4-3 after an 8-4 loss to Glenbard West on Tuesday, April 10. The team will look to improve before facing Glenbard West again on Thursday, April 12 at home.
Leave a Comment
About the Contributor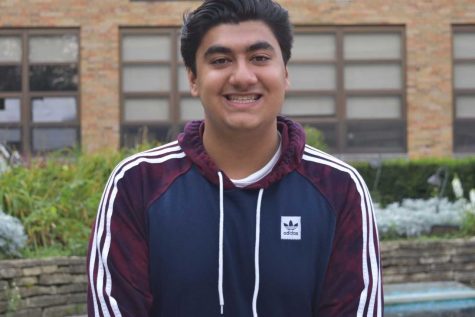 Kabir Sawlani, Editor-in-Chief
Kabir Sawlani is a senior who enjoys traveling and listening to hip-hop and alternative music. When he isn't cheering for the Cubs or the Bears, you can...