Humans of Hinsdale Central Week 10: Off to college
Why did you choose New York University?
"NYU was always an interest of mine since middle school because my family and I have been to New York so many times. I had always been aware of the campus and their range of studies is so broad. They have different stuff for art and they also have a bunch of labs for science subjects. It is also so diverse. Obviously, I love being here at Central, but it is lacking in diversity. There are people from all over the world because everyone applies there, which is a lot of why I chose it."
What was the application process like?
"The process was honestly not that hard at all. There was one essay about why NYU. Last summer I did a film making thing there so I talked about that a lot and how much I like the environment. Besides that, it was a normal ACT, GPA, etc. There were other applications that were much more tough."
Was this your number one choice?
"Yes, it was. I applied to several more and honestly, NYU was a reach for me and I did not think I was going to get in. I was telling my parents that I was not going to get in. It made me feel really good when I did though."
How do you feel now?
"I feel amazing. There is also a lot of pressure to keep it up. I'm battling between senioritis and still trying. Even now, my parents don't really care about this whole thing because they still want me to be on top of everything. I feel like getting into NYU was an excuse for me to be chill. It's hard, but let's hope nothing happens with my application."
~Suhaib Qasim
Why did you choose John Hopkins University?
"They have a good pediatric medicine program which is why I really wanted to go there. It's always on TV too which I know is a superficial reason. On TV there's a children's hospital and I said to myself that I want to learn there. I started researching it and thought it would be a great fit if I were to get accepted."
What was the application process like?
"It was really stressful, but that's for everyone no matter where they apply at. It was the basic Common App application or you could do the Coalition App, which I did. For Coalition, there was a supplement. Then, there was a place to put basic information like your activities, what you're interested in and what you want to major in. I think at the time it was stressful because in the beginning of senior year all these things just piled up."
Was this your number one choice?
"Yes, it was. I applied ED because I knew for sure I wanted to go. I'd give up all the other schools to get into this one. I definitely knew it was this one."
How do you feel now?
"I am really relaxed. Well, I say I am relaxed, but I am not really relaxed about it at all. I thought after I got in during the month of December I would be chill. Now, since it's a habit, I'll have the HC app open and refresh it constantly. I know that's unhealthy, but I am starting to wind down because I realize in the grand scheme of things I am in so I should relax."
~Chinaza Nwanpka
Why did you choose the University of Edinburgh?
"In the beginning of my junior year, I just had no idea where I wanted to go. I had a friend who was just starting junior year abroad in Scotland and I kept thinking how cool it was and how excited I was to study abroad. Then it dawned on me: 'can't you just go to school abroad?' I then started looking into it. At first, I was interested in the University of St. Andrews, which is a little bit more common for American students to go there. After researching the school, I realized that it was heavily American and I really wanted to experience the culture, not just go to a school that is American in Scotland. So, I studied the University of Edinburgh and realized that it was higher ranked in my subject area and it was in the capital of Scotland. It sounded like an incredible opportunity and I thought to myself for the longest time that I couldn't get in, especially because it's seventeenth in the world. Then I actually went to go visit another school in Scotland and decided to check out Edinburgh just to see what it's about. I fell in love with the city, and then I talked to an admissions director and he told me that I was in the range in order to get in the school. I was completely shocked. I ended up applying to Edinburgh and four other universities in the U.K. I got into all five of them and then from there it was pretty obvious I was going to choose Edinburgh."
What was the application process like?
"They have their own version of the Common App called UCAS. It's pretty much the same, but the one thing about the U.K. is that you're applying to major in a very specific thing. You have to know when you go in what you want to study. I applied to major in Sociology and then I'm going to add either Politics or Psychology depending on what I like my first year. The application is basically the same as the U.S.; you fill out all your information and my essay was very specific on why I wanted to major in Sociology. All of their British students have taken it already, so I had to read Sociology textbooks and find out what Sociology was before I even wrote it. I kind of turned the essay in blindly, thinking that none of it was right, but a bunch of Sociology professors were going to read through it so I knew it should've been fine."
Was this your number one choice?
"My number one choice was Edinburgh."
How do you feel now?
"I feel really happy about it. It was a big relief to finally get the acceptance. It's been weird since I came out saying that I was going to go to Edinburgh because a lot of people think I'm joking. A lot of people have never heard of it so they don't know that it's a good school. It's definitely interesting and I have learned a lot about the depth of knowledge that their counselors have and that you really have to fight for yourself when it comes to this process. I'm really happy but now I have to figure out my visa process which should be fun."
~Charlotte Sudduth
Why did you choose the University of Georgia?
"Definitely weather is a big factor. It's so much warmer there and I'm way happier in the sun. I'm really ready for that and a mild winter. I also want to be a teacher so I was looking for a strong education program and they have a really good undergraduate education program that I got into, so I'm really excited about that."
What was the application process like?
"They weren't through the Common App, I had to do it through the Georgia website. I did an application, filled out all my activities, grades, ACT, and etc. I also had to do two essays which included no common app essay so I had to do two separate ones. I applied in January and found out in March."
Was this your number one choice?
"Yes. I applied early to other places, but after hearing back from Georgia I got really excited because it's warmer and I realized that I applied to way too many Midwest schools. It definitely grew on me as I learned more because I don't know a lot about it since it's far away. You don't hear a lot about people going there, but the more I read about it and after visiting, I fell in love. I was really excited to be admitted."
How do you feel now?
"I am so excited to be going. It's so warm, so cute there and it's such an old school. The campus was founded in 1735 so parts of the campus are so old and historic. Athens is a really cute town and there are so many places to eat, go out and have fun."
~Sophie Brown
Why did you choose Brown University?
"I chose Brown because I wanted a liberal arts education and I wanted a medium-sized school. I also wanted a balance between academics and athletics because I am playing golf there as well."
What was the application process like?
"For me, because I was an athlete, it was mostly before senior year itself. It was through the recruiting process that I was given a spot on the team. The recruiting process wasn't fun, but it was worth it."
Was this your number one choice?
"It was among my top two choices for a while ever since sophomore year so I was pretty happy with that."
How do you feel now?
"I honestly can't wait to go to college and I am so excited."
~Roshannah Gaur
Why did you choose Loyola University?
"I chose Loyola because it was in the city and I love the city so it seemed like the perfect school."
What was the application process like?
"The application process was pretty easy."
Was this your number one choice?
"This was not my number one choice. It was tied between University of Illinois Urbana-Champaign and Loyola. I chose Loyola because it was in the city compared to a cornfield."
How do you feel now?
"I feel good about it and I'm very content with my decision."
~Munaj Alikhan
Tell us some interesting and fun facts about the school.
"The business school is ranked twenty-fourth in the country, so it's pretty up there considering that there are thousands of colleges in America. It's really cool because there are 60,000 kids on the campus and people think that's pretty massive, but it's actually pretty small and condense. Everyone skateboards to class and it has a really relaxed vibe. Also, it's really weird because I feel like I dress in a specific way with West Coast vibes and only a few people dress like that. Yet, when I showed up there I was thinking to myself that everyone looks like me. For example, khakis, vans and PacSun shirts. I felt like I was in a stimulation and it threw me for a whirl. They also rebuilt all the dorms so they are super nice. My dorm building is next to the workout facility and pool where the swim team trains. Michael Phelps is actually the swim coach for Arizona State so I might run into him. Additionally, Phil Mickelson's brother is the golf coach which is cool. Also my dad's frat brother, Doug Ducey, who founded Cold Stone and was the treasurer for Arizona, is now the Governor of Arizona."
~Michael Brose
Leave a Comment
About the Contributors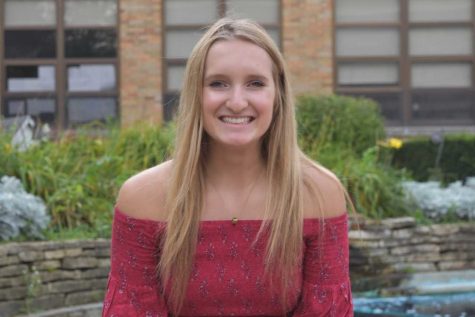 Sydney Seda, Managing Editor
Sydney Seda is a senior who loves to have a good time. You can catch her watching multiple episodes of Grey's Anatomy or volunteering at Hinsdale Hospital....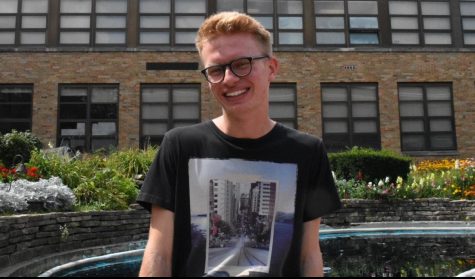 Nick Seda, Section Editor
Nick Seda, a senior at Hinsdale Central, is a section editor for multimedia on Devils' Advocate, whom enjoys traveling the world, taking pictures...