Summer jobs for students
Many students have already found summer jobs, but for those who have not found one, there are a few good money making options for this summer.
Caddying is a well-paying job, but it's not for everyone. It's a hard job that can require carrying, at times, two bags for multiple hours.
"I'm a caddy for my sixth summer," said Charlie Parse, junior. "I've been an honor caddy for three years, the job pays well, and I make my own hours, so it's a good job for a high schooler."
But caddying is a job that requires hard work and some physical ability, so it's not the best job for everyone. With this in mind, other students work at local businesses, such as restaurants and grocery stores.
"I work at Giuliano's Pizza in Hinsdale," said Genny Haarlow, sophomore. "It pays $9 an hour when you first start but I've been working for a year and a half, and now I make $10."
Salary is an important factor when it comes to any job but depending on the job; the pay is proportionate to the amount of work put in.
The environment in which you work can also make the difference between a job being or not being worth it.
"The environment [at Giuliano's] is super laid back and relaxed," Haarlow added. "It's mostly high school students with a couple of managers, and everyone there gets along so well, and we have a lot of fun. It honestly doesn't feel like a job."
Another type of job that many students work at over their summer is lifeguarding at local pools and country clubs.
"I work at Woods Pool in Burr Ridge as a lifeguard and swim teacher," said Tess Klygis, sophomore. "It pays a good amount for a high school student, and it's a very friendly and fun work environment."
Lifeguarding is different from other jobs in the sense that it requires previous training and certification even to consider the position. While some may think lifeguarding only requires sitting and watching the pool, there are many lesser-known aspects to the job, such as cleaning the pool, helping swimmers, swim instruction, and even saving lives in some cases.
"I love getting to work outside and with kids, and I've learned some really important skills that I carry with me into the school year," Klygis said. "Overall it's a blast."
Some students don't work for money though. There are many internships that provide work experience that can be helpful getting into colleges or for future jobs. Challenging internships force students to think and apply what they know to be productive.
"I will be taking an internship at Doehler based in Darmstadt, Germany. The company specializes in the production of food and beverage flavoring," said Carter McCarroll, sophomore. "I will be working from within the flavors factory performing miscellaneous tasks. The pay is eight Euros an hour, for eight hours a day, five days for three weeks."
Students who have jobs over the summer, whether for the first time or at the same job as last summer, can gain both work experience and cash. For anyone still looking for something, you can visit the local job board website.
Leave a Comment
About the Contributor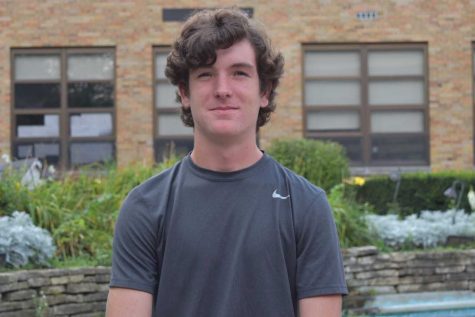 Peter Hughes, Writer
Peter Hughes is a junior who runs cross country and track. If he's not running, it's probably because he's either playing guitar or injured....