Varsity boys cross country place ninth at Palatine
It was a beautiful, sunny, 65 degree day to race for the Hinsdale Central boys cross country team at the Palatine Cross Country Invitational on Saturday Sept, 22.
The varsity race kicked off at 10 a.m. on the relatively flat, but mixed terrain at Deer Grove East Forest Preserve in Palatine Ill.
The conditions were ideal for runners to post their best times halfway through the season.
The competition was fierce with the invitational hosting 30 teams and 200 runners.
¨My biggest goal for this race is to focus on the process of racing,¨ said Matt Kusak, senior. ¨At my previous race two weeks ago I definitely gave up at mile one, one in a half, then I just started fading, so my biggest goal was to not do that. I think I faded a little at mile one to two but i made up for it miles two to three and overall I think I did a much better job.¨
Kusak placed 11th, running 15:12 and representing the first runner for the Devils.
Continuing the top five scoring spots were Piyush Mekla, sophomore finished 34th, with a time 15:32, Carter McCarroll, junior (56) 15:50, Keegan Caveney senior (60) 15:53, and Fletcher Spillers, senior (120) 16:22.
Varsity assistant coach Mr. Noah Lawrence, knew that because of the competitive field and with an absence of one of their top runners Alec Hill, senior, that the team should practice mental toughness and grittiness throughout the race to balance.
¨ We decided that we weren't going to make a goal based on place but how well we competed and rather move up in the second half of the race,¨ Lawrence said.
Alec Hill has plantar fasciitis, a common running injury making it difficult for runners to continue running on, but he cross trains, wears a medical boot, takes pain medicine, ices, rolls out his muscles, and stretches to prepare for the meets that count: conference, regionals, sectionals, and state.
¨I do the best I can to try and push myself everyday,¨ Hill said.  ¨It's certainly not as fun as normal training and it's a lot more repetitive and redundant than normal training [where] you don't get to go anywhere [on the elliptical], I just stay in one place all the time and I don't get to workout with anyone else so I certainly would rather be running, but I'll do what I have to to have a successful season I'm still motivated but I wish I could be running.¨
There are other runners who are currently not running due to injury, including Nick Sutton, senior with walking pneumonia, Chinmay Amin junior, and James Giltner, senior with hip problems.
¨No one has their season completely ruled out so that's a good part in the long term but we've got some problems we've got to resolve,¨ Hill said.
To compensate, Lawrence and head coach Jim Westphal run difficult practices several times per week to teach the runners how to tolerate pain, increase endurance and physical strength, as well as mental strategies to help their mindset during the race.
¨We've been talking about this whole philosophy about talking to yourself not listening to yourself because the entire race you always have that mental voice that is saying to you ´Oh this hurts that hurts´ and making up excuses for you to slow down,¨ Kusak said.  ¨What we focus on doing is talking to yourself which is saying to yourself ´Oh stay with this guy, I'm going to catch this pack´ and you don't listen to what the other side of you is saying.¨
In the sophomore race, Henning Ley finished 12th place running 16:25 and the team placed fifth. 
The JV team placed third as a team including an eighth place finish by senior Will Ricker in 16:16, followed by an 11th place finish by Aaron Lu, junior in 16:21, and a 12th place finish by Chase Sandlin, senior in 16:24.
Performances on the freshman level two and a half  mile race included a third place finish by Colby Revord with 13:18, followed by an 18th place finish by Henry Grueber with 14:00.
Revord with a strong finish could not get as much conditioning in due to a stress fracture in his back during summer training, which held him out for a few months.
Revord, like the rest of the team is gradually making progress throughout the season not only with his athletic ability, but with his confidence.
¨Lawrence came up to me and told me great race but you have to be more confident on your running,¨ Revord said.  ¨That's one of the main things that makes you a great runner. You need to take risks during the race go hard and go out harder because if you're getting third anyways why not go hard with those two runners and finish and die at the end.¨´
During the past three weeks all levels of the team have improved their team chemistry, the focus and quality of training preparing to strongly compete with other teams at conference.
¨Our goal every year is to run the best at the end of the season so obviously we would like to run well in our conference meet and run well enough to qualify for state competition and race at state in a way that reflects our best effort,¨ Lawrence said.
Some of the varsity, fro-soph and JV runners will compete at the Naperville Twilight Invitational at Naperville North High School on Wednesday Oct 3 at 6 p.m.
Leave a Comment
About the Contributor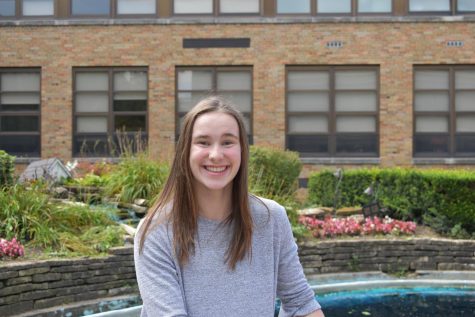 Rachel Wagner, Writer
Rachel Wagner is a junior writer for the Devil's Advocate. When she's not covering stories she can be seen at home drawing, writing, rewatching episodes...