New restaurant puts a spin on traditional American dishes
Located in the Oakbrook mall, retail store Crate and Barrel opened up a new contemporary restaurant called The Table at Crate on July 9. The restaurant invites guests to dine with a modern flare and try their unique twist on American cuisine.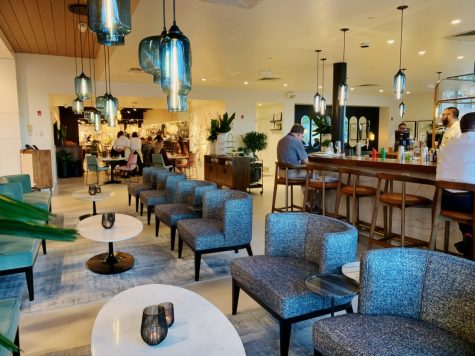 The design of the restaurant is similar to the Crate and Barrel retail store. It features a comfy sitting lounge, spacious indoor and outdoor seating, and a marble bar akin to the restaurant's overall aesthetic. The creative use of natural lighting and glass paneling gives the interior an open, inviting feel. The atmosphere of the restaurant draws many people in for lunch, dinner, or even a sip of coffee.
"I would say the atmosphere is upscale casual," said Katie Coffey, restaurant supervisor. "It's casual enough for kids to come and feel comfortable and nice enough for a date night."
The menu is comprised of fresh salads, tartines, healthy bowls, and entrées. Each dish offers a variety of vegetables and ancient grains, tying together unique spices and sauces.
When visiting the restaurant, I ordered chilled shishito peppers with soy sauce, balsamic vinaigrette, and chili flakes. Traditionally, shishito peppers are served as a sweet, Korean variety of pepper. However, the dish took a spin adding hints of Mexican spices in the chili flake combined with the refined, sweet crunch of the pepper. The light glaze of the soy sauce added the perfect amount of savory and mixed in the peppers' traditional Korean flare.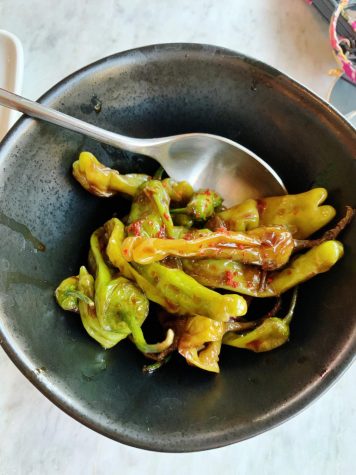 Joselyl Tineo, waitress, pointed out other dishes on the menu that gives traditional food a contemporary twist.
"My favorite thing on the menu is the shrimp poke," Tineo said. "Poke is a Hawaiian dish, but they do a twist on it here. It's made of shrimp, edamame, quinoa, cauliflower, rice, spinach, avocado and an agave miso vinaigrette. It's so good and very flavorful. When people order it, they end up loving it."
Other students who visit Oak Brook for restaurants found The Table somewhat more convenient.
"I went to The Table at Crate with my family after we finished a long day of shopping for back-to-school clothes," said Kate Demakis, sophomore. "It was the perfect place to sit down and grab a bite to eat. The food was served at a fast pace, making it more convenient than other sit down restaurants I've been to."
The Table at Crate is open from 10 a.m. to 9 p.m. on Monday through Saturday and 11 a.m. to 6 p.m. on Sunday. For more information, you can check out their website.
Leave a Comment
About the Contributors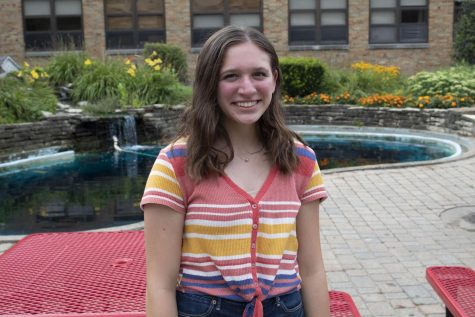 Natalia Berti, Section Editor
Natalia Berti is a senior who, when not chilling at a picturesque coffee shop or practicing her badminton footwork, enjoys re-watching the Avengers movies...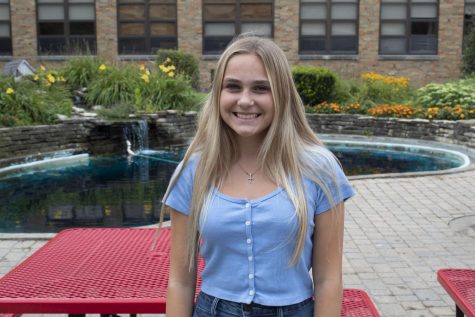 Anna Pellegrino, Writer
Anna Pellegrino is a junior writer who enjoys dancing and going out with her friends. When she's not at Mock Trial practice, you can catch her singing...