Make these drinks and snack when you crave fast food
As of Saturday, March 21, Illinois Governor J.B. Pritzker required all residents to stay home as much as possible, preventing most coffee shops, cafés, and sit down restaurants from selling to customers to minimize the spread of the Coronavirus. While this has inconvenienced many in different ways, students worry where they will get their daily coffee, snacks, and other caffeinated drinks that they rely on to get through the day.
"Instead of going to Starbucks in Willowbrook or Hinsdale for coffee, I go to Jewel Osco because grocery stores are still open," said Philip Fan, senior.
Foam Coffee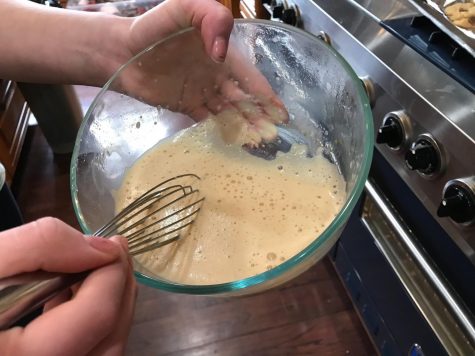 Although you can still access coffee at your nearest supermarket, experimenting with this quick and easy foam coffee can help you avoid contact from outside. Inspired by the whipped coffee trend on TikTok, this coffee mixture feels light and airy to the touch.
Ingredients:
Depending on how many cups you wish to make, these measurements vary but you should maintain an equal ratio of instant coffee, sugar, and hot water.
1 tablespoon of instant coffee (as opposed to coffee grounds)

1 tablespoon of sugar

1 tablespoon of hot water

Milk (for coffee mixture to be poured on top of)
Directions:
Pour the instant coffee, sugar, and hot water into a bowl and grab a whisk.

Next, get ready for a high-intensity forearm workout by whisking each of the ingredients together for ten minutes or

until the coffee turns into a cloud-like, caramel-colored mixture.
Although some large food chains offer food that can deliver right to your doorstep through apps like DoorDash and Uber Eats, below are recipes perfect to make at home anytime you want something to snack on.
Ramen Noodles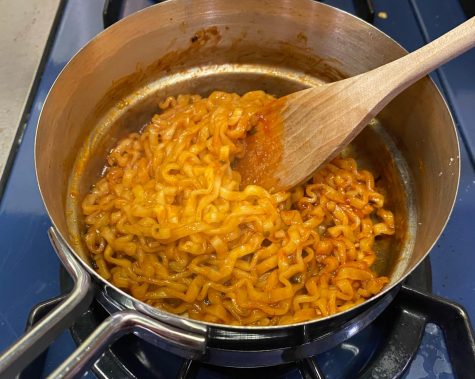 If you're looking for something savory and spicy to snack on, try making your own ramen noodles. If you do not have a packet at home, I would suggest using plain noodles and adding chili flakes, sriracha sauce, and soy sauce as substitutes.
"When in quarantine, I make ramen because it is super easy and fast to make," said Gabi Camara, junior.
This ramen packet is one of my personal favorites and it takes only about ten minutes to make. It is perfect to snack on while watching Netflix or when completing your e-learning work.
Ingredients:
Directions:
To get started, pour the liquid sauce into 500 milliliters of water and boil.

When the water starts to boil, put the noodles inside the pot and cook for five more minutes.

Turn the stove off and pour in the spicy powder.

Stir well and enjoy your cooked ramen!
Granola Bars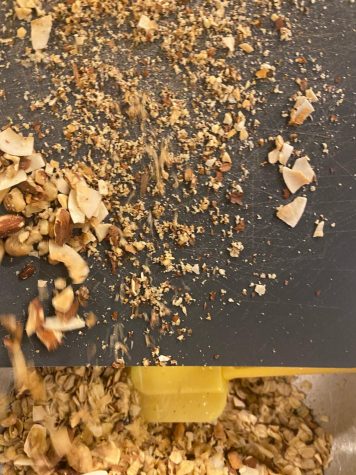 If you are interested in a more healthy alternative, I suggest this easy-to-make coconut granola bar recipe. Filled with protein, these bars can help you stay energized throughout the day.
Ingredients:
1/4 cup canola oil, plus additional for the pan and for your hands

7 ounces (2 cups) rolled oats

1 ½ ounces (1 heaped cup) flaked coconut

½ teaspoon cinnamon

¼ teaspoon freshly grated nutmeg

¼ teaspoon salt (optional)

½ cup mild honey, like clover or agave nectar

1 teaspoon vanilla

4 ounces (1 cup) lightly toasted nuts, like almonds and pecans, coarsely chopped
Directions: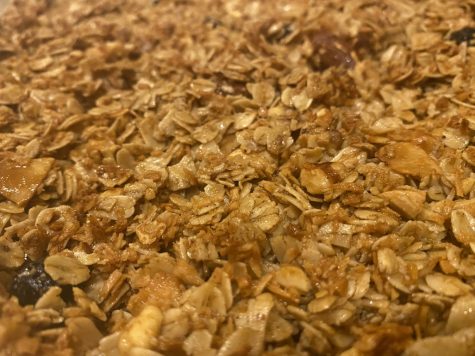 Preheat the oven to 325

°

degrees Fahrenheit.

Place the oats in a bowl and toss with the oil until thoroughly coated. Line a baking sheet or pan with parchment

and spread the oats in an even layer on the parchment. Place in the oven and toast for about 20 minutes, stirring halfway through, until the grains are lightly toasted.

Remove from the oven, return to the bowl, and stir together the coconut, spices, salt and nuts.

Place the honey and vanilla in a saucepan, and bring to a boil over medium heat. Next, remove from the heat and pour over the oat mixture. Stir until the oat mixture is evenly coated with honey.

Scrape the granola mixture into the pan and spread in an even layer. Place in the oven for 25 minutes, until just golden. You do not want the oats to become too brown, or the bars will be too hard when they cool.

Remove from the heat and allow to cool completely, then either cut into 2-inch squares or place in a heat withstanding bowl to snack on for later.
Rice Krispies Treats
If you are looking for a sweet treat to make, I suggest Rice Krispies treats with chocolate and pretzels that put a salty twist on regular homemade Rice Krispies treats.
Ingredients:
Nonstick cooking spray

6 tablespoons salted butter (3/4 stick)

1 (10-ounce) bag marshmallows

3 cups Rice Krispies, or other crisp rice cereal

3 cups of butter-flavored or regular mini-pretzels, broken into 1/2- to 1-inch pieces

3 ounces semisweet chocolate, chopped

Flaky sea salt, for sprinkling
Directions: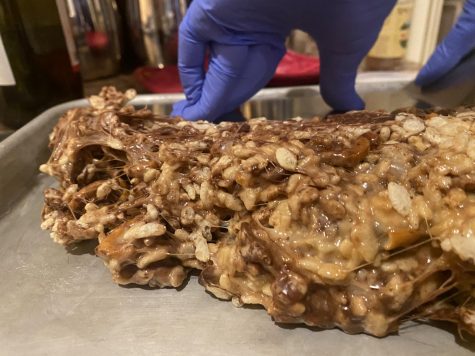 Line the bottom and sides of a 9-inch square baking pan with foil, leaving a 1-inch overhang on all sides,

then coat with nonstick cooking spray.

Melt the butter in a large saucepan then add the marshmallows.

Remove the mixture heat, then add the cereal and pretzels and stir until evenly coated. Then, Immediately scrape the mixture into the prepared pan.

Using a spatula, press the mixture to evenly cover the bottom of the pan. Sprinkle the chopped chocolate on top and press the mixture with the chocolate into a flat, even layer in the pan. Next, sprinkle flaky sea salt on top.

Cool to room temperature in the pan on a rack. Serve immediately or transfer to an airtight container.
If you don't have all the ingredients for these recipes, don't let that stop you! Check out this website for food and beverage substitutes and this Youtube link for more cooking inspiration.
Leave a Comment
About the Contributor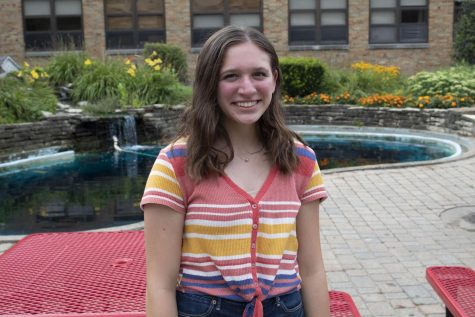 Natalia Berti, Section Editor
Natalia Berti is a senior who, when not chilling at a picturesque coffee shop or practicing her badminton footwork, enjoys re-watching the Avengers movies...