Songs to get you into the Valentine's Day mood
Valentine's Day is right around the corner and whether you are in a relationship or not, here are some songs to celebrate the occasion. This is the perfect February playlist for those who are home alone on the special day, out on a dinner date, or enjoying galentines festivities. Even without a date, one can appreciate a few love songs. Featured songs include oldies but goodies to more modern music. Enjoy. 
Say Hey (I Love You)– Michael Franti & Spearhead, Cherine Tanya Anderson 
Released in 2008, this song is a throwback. The alternative beat will make you wish you were somewhere on a beach. This song is far from a traditional love song, rather a song about love. Upbeat and fun, it is one of my favorites to sing along to. 
"This song makes me want to dance," said Lane Inabnit, freshman.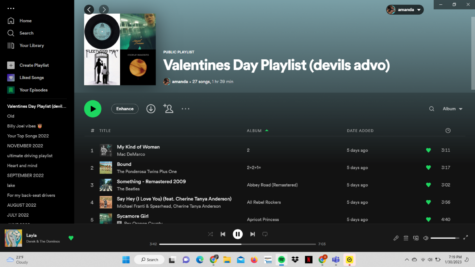 Favorite lyrics:
"I've been a lot of places all around the way
I've seen a lot of joy and I've seen a lot of pain
But I don't want to write a love song for the world
I just want to write a song about a boy and a girl"
Wonderful Tonight– Eric Clapton
Eric Clapton is an English rock guitarist and musician from the 1970's. Famous for songs such as Layla and Teardrops in Heaven, the guitarist has since retired but his music lives on. This song in particular describes the admiration he feels on a night out with the woman he loves. 
"I've always loved this song, [it's] well written and [has] great lyrics for Valentines Day, performed by a legend of the classic rock era," said Jennifer Burkemper, choir director.
Favorite Lyrics:
"I feel wonderful
Because I see the love light in your eyes
And the wonder of it all
Is that you just don't realize how much I love you"
Bound– The Ponderosa Twins Plus One
Interestingly enough, Bound came before Bound 2. The backtrack to Kanye's famous Bound 2 is a beautiful song within itself and one that deserves more recognition by our generation. Released in 1971, the song and its lyrics still possess something special. At first listen, I couldn't shake the expectation of Kanye's booming voice to enter the track, but I have since overcome this expectation and learned to love the song regardless. 
Favorite Lyrics:
"You started with a mere hello
Then you learned her name
You notice her finer qualities
And the magic of her rare personality
Bound (bound) bound (bound)
Bound to fall in love"
Loving is Easy– Rex Orange County, Benny Sings 
I couldn't make a playlist and refrain from incorporating my favorite artist. This was one of the first songs I ever listened to by Rex and it forever put me onto his music. Featuring another artist, Benny Sings, the song is perfectly tied together and simply puts you in the loving mood. 
Favorite Lyrics:
"Yeah, loving is easy
When everything's perfect
Please don't change a single little thing for me
Listen girl
When you can't even hide it
And it didn't take forever to find it
I was all on my own
Almost glad to be alone
Until love came in on time, on time
So loving is easy"
Everybody Loves Somebody- Dean Martin
This song, perfect for those of us who are hopeless romantics,  makes you excited to pursue love. This pop song from 1964 is a classic and truly is loved by everybody. 
Favorite lyrics:
"Everybody loves somebody sometime
And although my dream was overdue
Your love made it well worth waiting
For someone like you"
The Gangster's Ball- TheSpins
TheSpins are an Indie/Alternative rock band from Northern New Jersey consisting of Nick Coombs, Freddy Smith, Jimmy Barr, and Luke Talmadge. The Gangster's Ball was part of a 2018 EP featuring only 3 songs. This song is my favorite of theirs and has quite a romantic feeling to it. 
"I don't really know many other songs by TheSpins but this is one of my favorite songs of all time," said Audrey Austin, senior. 
Favorite lyrics:
"Dancing in a sundress
A beautiful brunette by my side
Gain some confidence
A few drinks and the nerves will subside"
To listen to this playlist in its entirety of 28 compiled songs visit here.
Leave a Comment
About the Contributors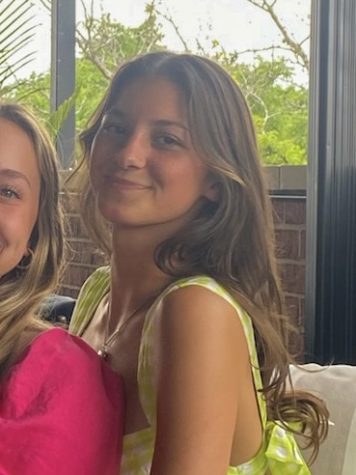 Amanda McLaughlin
Amanda McLaughlin, senior, is so excited to be working on the Devil's Advocate news website this year as a writer on staff. Amanda has been on the HC...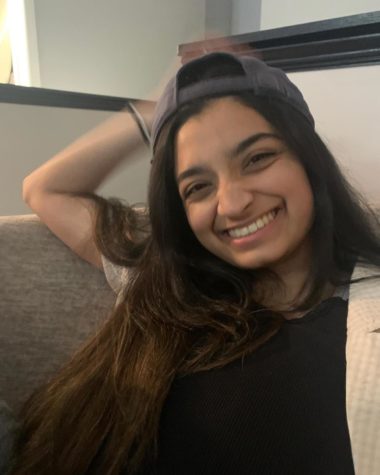 Simrah Qasim, Editor-In-Chief
Simrah Qasim, senior, is excited to be returning to devil's advocate. She loves listening to music, writing, and playing the piano. Along with Devil's...