On Aug. 24, Starbucks released their new fall menu. The menu has a variety of new drink and food options to choose from, such as the iced apple crisp oatmilk shaken espresso and the baked apple croissant.
However, Starbucks kept some of their signature items. One of the staples of the fall menu is the pumpkin spice latte, and it makes a return for the twentieth year in a row.
Baked Apple Croissant
The baked apple croissant is an 8.5/10. It was warm, the apples were tart and the croissant was fluffy. Overall, it was really good.
Story continues below advertisement
"[It has] a nice doughy texture, surrounding the tart apple slices in the middle," said Silas Hirschman, junior. "I'll give it a 6.48/10."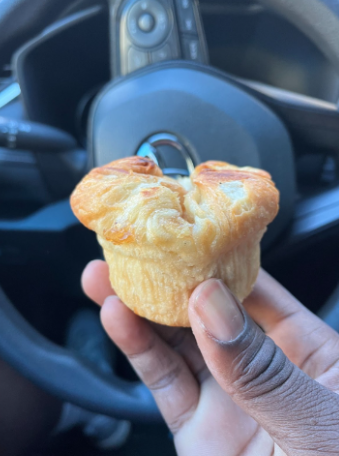 Our combined review of the baked apple croissant is 7.5/10. It is one of the highlights of the fall menu, and it is one of the best pastries at Starbucks. I would definitely recommend you to try it.
Apple Crisp Oatmilk Macchiato
I'll give the apple crisp oatmilk macchiato a 5.5/10. It didn't give me an actual apple flavor and just tasted like coffee.
"It wasn't my favorite," said Michael Plunkett, junior. "I'll give it a 6/10."
It smelled like apples, but when you had a sip, it tasted like a regular macchiato. I would have rather had the classic pumpkin spice latte than the apple crisp oatmilk macchiato.
Pumpkin Spice Latte
As arguably the most iconic and classic item on Starbucks' fall menu, the pumpkin spice latte has a lot to live up to. It does just that.
"It was pretty good," said Andrius Marchertas, junior. "I'll give it a 7.5/10."
The pumpkin spice latte pairs well with the baked apple croissant as they're both a nice, warm and delicious treat.
To view Starbucks' full fall menu, click here.