On Wednesday, Nov. 1, Dunkin' dropped their holiday menu featuring two new items: the Cookie Butter Cold Brew and the Spiced Cookie Iced Coffee. The menu also features returning items such as the White Chocolate Signature Latte and the Peppermint Mocha Signature Latte.
The Cookie Butter Cold Brew was just alright. I thought it would be sweeter, considering it was supposed to have cookie butter. However, the drink comes off as bitter, even after the addition of extra sugar and creamer.
"The cookie flavor could have been a bit stronger, and the actual coffee part could have been a little less sugary," said Ayesha Ahmed, junior. 
The Spiced Cookie Iced Coffee was not my favorite by any means. It tasted more like a fall drink than a holiday themed one. It also had an oatmeal taste that I did not really appreciate. 
Story continues below advertisement
According to a survey, the Spiced Cookie Iced Coffee was rated as a 2/5.
"It is not for me, and it tasted like Windex," said Claire Gilliam, junior. "It would never replace a caramel macchiato."
The returning menu items such as the White Chocolate Signature Latte and the Peppermint Mocha are far better than the new ones. 
I tried the White Chocolate Mocha, and I felt like it was not sweet enough even after stirring it. It was supposed to taste like cinnamon, but it tasted more like cold milk to me.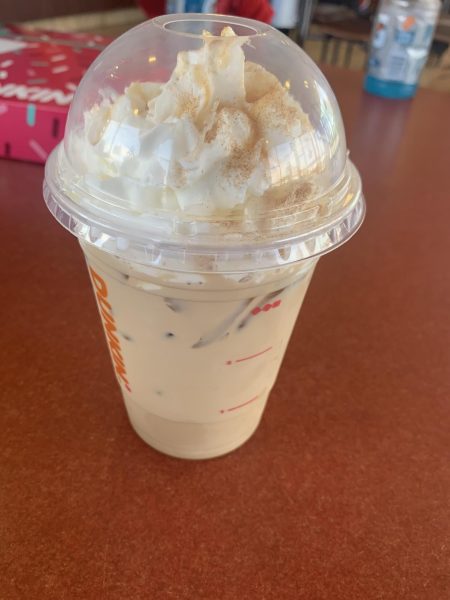 "I felt like it needed more flavor as it was kind of bland," Gilliam said. "I did not taste too much chocolate, however, it was visually appealing to me."
The last drink on their holiday menu was the Peppermint Mocha Latte, which I had in the hot form. I thought it was pretty good in comparison to Starbucks' Peppermint Mocha, and it was worth the money.
"I liked the peppermint taste but thought that it was a little too sweet," said Emaan Shaikh, freshman. 
To see the full Dunkin' menu, please visit this link.