Thanksgiving falls on Nov. 23 this year, and families come together and celebrate. Families typically make the traditional Thanksgiving meal of turkey and many sides, often also involving meat. But for vegetarians, problems can arise when trying to come up with a Thanksgiving menu, as they do not have the traditional options of meat available. 
My family and I are vegetarian, and we have difficulties coming up with foods to make each year. This year, I want to try various vegetarian Thanksgiving recipes and see which would be perfect for Thanksgiving dinner. 
Dawn Oler, cooking and FACS teacher, made some suggestions on what to make.
"I have a lot of students who will make soup or stew," Oler said. "Some students want to try the Tofurky, but I am not a fan."
Story continues below advertisement
Oler also mentioned vegetarian side options.
"There's always the traditional potatoes," Oler said. "Roasted vegetables are amazing, [and] you can also do meatless stuffing or dressing."
I decided to take suggestions from each of the people I talked to, creating some mains, sides and a dessert based on their suggestions.
Based on Oler's suggestions, I made roasted brussels sprouts, sweet potatoes and a pumpkin pie. From student Aadya Boggaram, sophomore, lasagna. And finally from my own mom, butternut squash risotto. 
For the first main dish, I made my mom's own butternut squash risotto recipe. It's not a written recipe, but my mom was able to divulge her recipe for this Thanksgiving staple.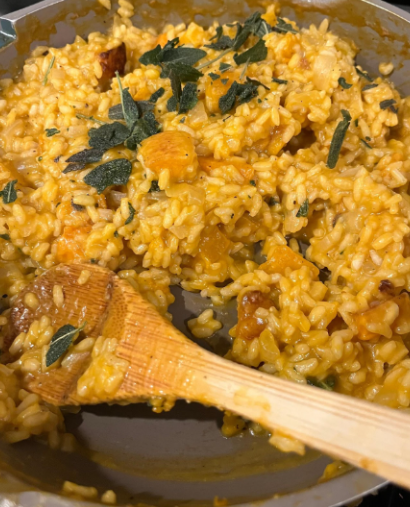 "So first, you want to get a 20 oz butternut squash and chop it, then throw it into the oven. Put some salt, pepper, and drizzle it with oil. Put it in for 30 mins at 400 degrees," Joshi said. "While it's cooking, get 1 quart and another 3⁄4 quart of vegetable broth and put it in a pot on the stove. Let it simmer and get hot.
"Grab an onion and a half and cube it all, put that in a big pot on the stove, along with 2 tablespoons butter, two or more tablespoons olive oil, and 2 cups of Arborio rice. Mix it all together nicely," Joshi said. "Then, two ladles at a time, add the hot vegetable broth to the mixture. It's important to do it a few ladles at a time, then stir it in until absorbed, instead of all at once because you can't overwhelm the rice with all the water, you need to do it little by little. It's very important to make sure the broth is hot as you're putting it in. 
"Once the squash is cooked fully, add it into the mixture," Joshi said.
We fried sage and added it on top. As well, we added some salad on the side.
The butternut squash risotto was delicious. It was honestly a 10/10, but I may be a little biased.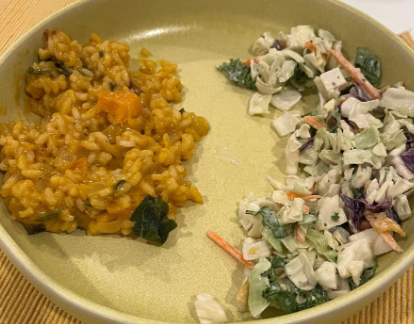 The butternut squash mixed with the vegetable broth made for a delectable mixture of strong flavors. In fact, the flavors were still there days after.
It was creamy, yet had that solid feel with the rice. The soft butternut squash gave it that pop of flavor in your mouth. The butternut squash could easily be replaced with pumpkin for a more traditional fall centered Thanksgiving meal.
Next, I made a delicious vegetarian, vegetable lasagna.
Boggaram has a family of vegetarians and recommends lasagna as a meatless meal.
"[My family and I] often rely a lot on side dishes, such as mashed potatoes and cornbread and cranberry sauce," Boggaram said. "We also eat a lot of plant based options, such as lasagna."
I took her suggestion and made lasagna, finding a recipe that had vegetables in it too and not just the regular ingredients.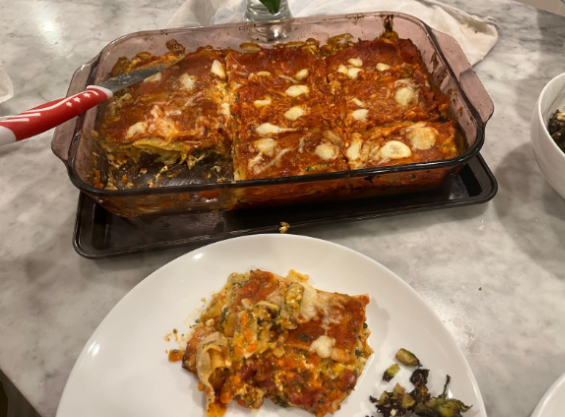 We didn't have the regular mozzarella cheese as the recipe called for, so we used mozzarella balls instead. It was just as delicious.
This recipe was not all that special as it tasted just as good as any lasagna. However, it did have some unique characteristics to it.
Putting the roasted vegetables in the cottage cheese was unconventional, but made the combined flavors of the vegetables stronger and tastier.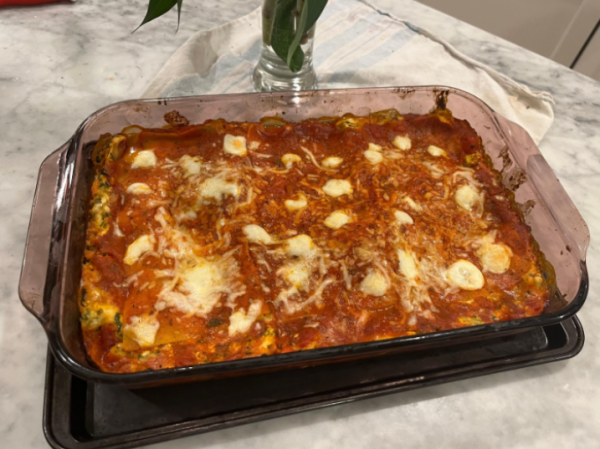 I also thought that the cottage cheese that replaced the traditional ricotta cheese paired so well with the lasagna because of the creaminess and the extra layer of texture it added. 
Overall, this recipe was great. It was even good for Thanksgiving leftovers as I often brought this lasagna to school for lunch.
For the side dishes, we made Balsamic-Roasted Brussels Sprouts. I honestly didn't realize this recipe called for meat until I was making it, so we omitted the meat. We also added some garlic to it.
These brussels sprouts were delicious. The balsamic vinegar on them was like an explosion of flavor.
Roasted brussels sprouts are flavourful and tasty on their own, as you know if you've ever had them. However, the balsamic vinegar added a rich taste to an already great dish, making this go very quick at dinner in my house.
The next side dish I made was these amazing roasted sweet potatoes with honey and cinnamon. Unfortunately, I was not able to get a photo from this one. However the photo on the website truly showcases the deliciousness of it, if the name doesn't sell you alone.
I've never thought to put honey and cinnamon together with sweet potatoes, and I'm so glad I had to for this recipe. It was a very different taste then what I'm used to; it was slightly sweet yet with a spice to it, from the cinnamon.
It was easy and quick to make, too. The roasted sweet potatoes were an instant new favorite in my house. They had a very unique taste, having two strong and different tastes, yet when brought together made a marvelous dish.
Lastly, we made some pumpkin pie for dessert.
It was very simple and easy to make, and the flavor was outstanding. It was smooth, soft and rich, allowing the pumpkin flavor to come alive with the spices.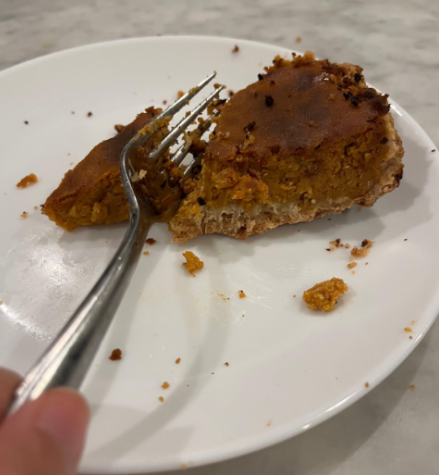 I added a lot of pumpkin pie spice on top of the already existing spices in it. My family likes a strong taste, and the spice gives it an extra kick.
However, the pie did get slightly burned on the top. I recommend putting it in for a little less time than required. This pie is perfectly heated up with some ice cream to top it off.