What's trending in womenswear for spring 2017
The recent February warm spell had many of us thinking ahead about the fashion for the upcoming season. For future outfit inspiration, here are some of the top trends in womenswear that we can expect to see in Spring 2017.
Delicate florals
In recent years, bold and loud floral prints were commonly seen stamped throughout countless articles of clothing. This year, florals are still here to stay but the subtle, more toned-down patterns are starting to make a heavier appearance. The florals that already have started to hit stores seem to be softer and more delicate, making them effortless to work into a variety of outfits.
"I love the floral trend," said Maria Chagoya, junior. "I like incorporating it into my outfits by wearing floral kimonos or flower crowns."
Smocked dresses
Another style making its way into stores is the smocked dress. Smocking is the technique of making small stitches to create the look of gathered, stretchy fabric. This technique is older as it was used in sewing before elastic came into clothing. However, it's still very trendy as it is usually seen throughout off-the-shoulder necklines which have expanded not only onto shirts, but also dresses.
"I like the off-the-shoulder trend on anything because it's not too warm and not too cold. You can also wear something over it if you want to," said Paula Bordera, senior.
Logo tees
Both on and off the runway, the contemporary and urban elements of street-style are commonly seen in today's fashion and logo tees are definitely one of them.
As a variation of graphic tees, logo tees put emphasis on text. Whether it be the name of a brand or even a simple phrase written across the garment, the integration of different typographic prints and designs is something to look out for in stores.
"Graphic tees are going to be big this spring," said Madi Leonhardt, senior who also participates as a fashion ambassador at Nordstrom in Oak Brook Center. "I just saw some at Paris fashion week and I'm considering adding a few to my wardrobe."
Ballet Flats
Prior to breaking out the flip-flops and beachy sandals, ballet flats are one of the go-to picks for students in terms of footwear. They pair well with dresses, skirts, and anything else that you would like to give a dressier feel.
Tieks are a popular brand among ballet flats as they're known for their color selection, unique aqua soles, and they're flexibility that makes them easy to walk in during a long school day. Another plus is that they're portable. Each pair easily rolls up to fit in purses or even suitcases when traveling.
Don't miss out on these trends because a change in season is always a good time to try out something new.
Leave a Comment
About the Contributor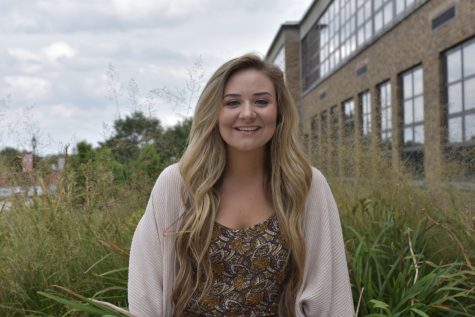 Holly Swasko, Writer
Known for her love of rose gold and cardigans, Holly Swasko, senior, will rarely be seen without at least one of them. When she isn't posing for an "OOTD"...