Sushi House serves divine dishes
Sushi House, located near Grill 89 in St. James Crossing, is a sushi bar with a soothing environment. Due to its proximity and prices, it's a great place for students, faculty, and other community members to dine.
As I walked in the doors, I was aware of the dim, pleasant lighting contributing to the serene atmosphere. There were two especially low tables without seats, modeling traditional Japanese chabudai tables. Rather than having a hardwood seat, these tables had cushions to sit on, a much more comfortable alternative.
Behind the sushi bar were dishes with a myriad of fish types on long rectangular plates. The sushi chef was visibly hard at work, delicately crafting the rolls with an expertise I could imagine took years to acquire.
The host led me to a small, tidy table with a sushi and sashimi menu aside from the ordinary entrée menu. The main menu contained a variety of dishes, ranging from tempura and noodles to soups and rice dishes. I ordered a variety of sashimi and nigiri while my friend James Giltner, junior, ordered a tempura assortment. The fish on my dish was buttery, making the quality of the cut evident.
"The tempura was crisp and really good. I was surprised that sweet potato tempura was a thing," Giltner said.
I also got to taste the tempura, which was incredibly light and flavorful. The dipping broth added a richness to the light pieces of fried sweet potato, cucumber, shrimp, and broccoli. The meal was reasonably priced for a sushi serving restaurant.
The meal ended with a dish of minty chocolate sticks, courtesy of the server. Despite its high quality food, the less formal atmosphere of Sushi House makes it perfect for any lunch or dinner.
Sushi House is located at 830 E. Ogden Ave., Westmont, Ill. in St. James Crossing.
Leave a Comment
About the Contributor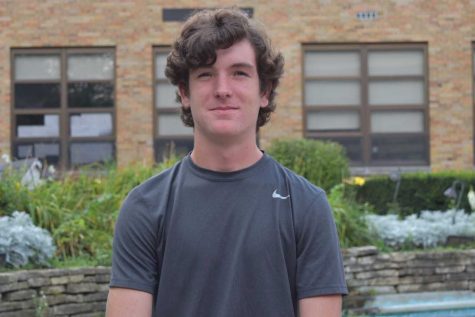 Peter Hughes, Writer
Peter Hughes is a junior who runs cross country and track. If he's not running, it's probably because he's either playing guitar or injured....