Trends rule high school, but not for the kids who break them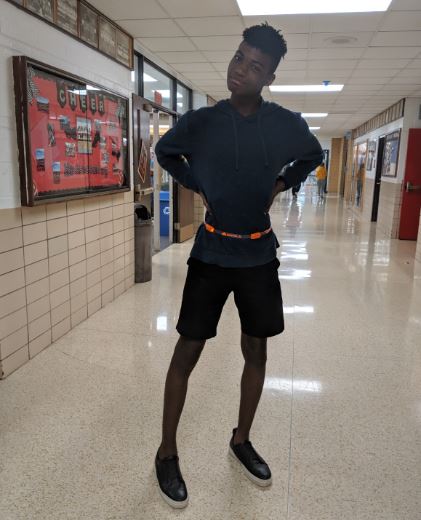 Students typically follow trends of comfort to adapt to their educational environment, but there are some students who decide to break the mold to express themselves further.
At school there's a large variety of clothing styles you see. With around 3,000 students and staff, there's a lot of room for different ways of expression.
"There's so much variety… sometimes trends are very shocking to me," said Mrs. April McPhillips, a teacher of sewing and design.
However, trends ripple throughout the crowds. Air Force One's, joggers and leggings are all common among teenagers, according to Emmanuel Jurineak, sophomore.
"[These trends] are the biggest thing, just because people want to be comfortable," Jurineak said.
Comfort seems to make a big impact on what people wear in school. Teenagers attune themselves to what makes them comfortable, and with athleisure being a huge trend in fashion currently, being comfortable and fashionable is easier than ever. Students also pay a lot of attention to how cold and warm the school is, as it often differs greatly from the weather outside. Tests and everyday schedules also impact how kids dress.
"I tend to like clothes that won't fidget, so when I'm stressed, or on a test day, I'll wear something that's pretty comfortable," said Willhemina Kratz, sophomore.
While comfort and ease of access means a lot to many people, for students like Jurineak, comfort is not the first priority.
"I try to wear jeans and have more of a put-together look," Jurineack said. "I don't always wear the most comfortable thing because I want it to look good, I want it to look better than it feels."
Clothes let some kids express the way they feel, taking inspiration from the Internet and the people around them. These kids don't want to wear leggings or joggers, they look for flared pants and the Gucci Belt.
Trends like barrettes, a higher waistline, and chunky sneakers have made their way into the style of teenagers. These kids like to be a little daring and draw from trends that are a little more out there to gain attention or admiration.
Some students, however, want to start trends and not follow them.
"If you want to have a good impression, wear something that may not be that good, but in two years, everyone will be wearing it. So…be the one that starts the trend," Jurineak said.
Dressing in unique ways and starting trends can give people confidence, and push kids through some of the trials and tribulations of school.
"When people give different compliments, it lets me know that… I should wear this again…it can give other people ideas," Jurineak said.
But just as trends start, they can end as quickly.
"Trends are cyclical. You only have two items of clothing to work off for wearable fashion," McPhillips said. "So, you'll see trends (from the past) coming back."
Leave a Comment