Senior creates tools for relaxation
Emmit Flynn, senior, holds his Firefly Spinner between his middle finger and thumb, slowly spinning it as he listens to his teachers throughout the day. In stressful situations, he whips it out, keeping his hands occupied as his mind wanders in thought.
The spinning metals work toward calming and occupying fidgety hands. He plots his next designs, new improvements, better spinners, as he utilizes school software, engineering tools, and laser cutters to develop on his creative hobby: building spinners.
The Engineering Department harbors many of the school's most innovative, creative, and inventive students. Opening its doors for students to easily use, many creations come out of the classroom. Whether it's an early morning, or right after school, students like Flynn can be found tinkering, designing, and laser cutting their latest projects.
Flynn's muse comes out of a backorder on manufactured spinners.
"I saw a video about six and a half months ago of the Torqbar, which was the first spinner ever, it was actually just an advertisement for it," Flynn said. "I instantly wanted it, but it was the first of its kind, so it was hard to get."
The Torqbar was released as a new "toy" with the purpose of calming and averting stress onto the simple act of spinning metal between your hands. This non disruptive toy made a boom in the market, becoming the newest tabletop necessity in schools and workplaces alike.
"They were really expensive and hard to get your hands on, so I just started making my own," Flynn said.
And make his own he did. With the help of the resources provided to him by the school's Engineering Department, Flynn was able to make his own spinners as a hobby, something to pass the time as he waited for the chance to buy his own Torqbar.
"I design them first on the computer in the engineering department, on a program called Autocad," Flynn said. "Once I design them on the computer, I transfer the drawing over to a laser cutting machine, and use that file to program that into the machine so that it can cut it out for me in the shapes and sizes that I want them."
Once he has all the wood, metal and gears made, he begins the assembling process. Using super glue, variations of buckles, and other materials, Flynn produces his own spinner. He uses them for his own enjoyment, and has made a hobby into creating and designing different types of the toy. He's able to make some within a week.
"The design is what takes the longest, and the laser cutting takes the shortest," Flynn said. "But when it comes to making actual homemade metal ones, they take a little bit longer. The length of time it takes me really just depends on what else I have going on in the week."
Many people have seen these spinners around, and have also been wondering how to get them.
"The spinners look cool, and it looks like it really helps with fidgeting," said Peter Cychowski, junior. "Emmit's spinners are so cool just because they're authentic and handmade. I'd love to get my hands on a spinner for myself."
By now, Flynn has made many of his own, trying out different designs, using various materials and testing different shapes to play around with the development of his own spinners.
"I've made around fifty spinners up to now, all of different shapes, styles, and designs," Flynn said.
"I love Emmit's designs," said Alex Martin, junior. "He's let me play around with them and I thought they were so cool and creative."
Flynn is just one of the many students that develops his own projects out of a disappointment he experienced in the real world. He builds his own solutions, and has found a hobby out of it, all with the help of the resources found at his school.
"I finally got the chance to order one after four months of its release, but by that time I had already made so many of my own," Flynn said. "Either way, spinners are just really fun."
Leave a Comment
About the Contributor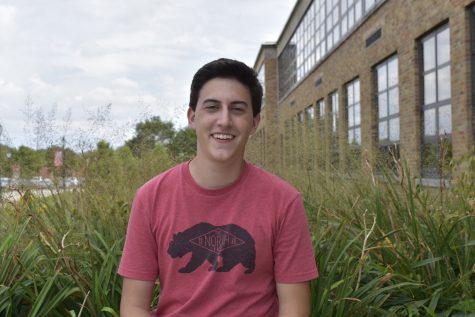 Zeljko Kospic, Writer
Zeljko Kospic, senior writer for Devils' Advocate, loves to write, socialize, and eat. He is a self-taught guitarist, with a passion for all music genres....