Pumpkin patches to fall in love with
As September comes to a close and temperatures begin to cool down, students are anticipating all the great activities the fall season brings. Whether it be Friday night football games, Halloween movie marathons, or weekend trips to Six Flags Fright Fest, there are numerous reasons to celebrate the fall season.
One of the most exciting and popular ways to welcome the month of October is visiting any one of the many pumpkin patches that open annually during the fall season.
For those looking to have a complete autumn experience, Bengtson's Pumpkin Farm is a huge favorite among students. Only 25 minutes from Central's campus, Bengtson's is a great place to get into the fall spirit because it offers a multitude of activities for people of all ages.
"My favorite pumpkin patch is Bengtson's [Pumpkin Farm] because not only does it have pumpkins, but there are also other attractions like rides, a petting zoo, and a haunted house," said Shalini Sahgal, junior.
Bengtson's is located in Homer Glen and charges $16, depending on the day of the week. With so much to offer, many people guarantee the price is worth it.
"I love taking my kids here because I feel like it's such an easy process to pay before you go in, and then have the opportunity to go on all the rides and explore the whole farm," said Roger Zanetti, who was visiting Bengtson's with his three children. "There's so much to do. It's great to have a place like this that we can come back to each year knowing we'll have a positive experience."
For those who are looking for a free option with similar benefits, Sonny Acres Farm is only half an hour away from Central, located in West Chicago. Although it is smaller, it has many similar amenities as Bengtson's including a large pumpkin patch, a fun slide, a hayride, and more.
Although these pumpkin patches are packed with tons of fall fun, they are still somewhat limited only by their suburban locations. For students willing to go the distance, the border between Illinois and Wisconsin is loaded with pumpkin patches that have every fall activity imaginable.
Stade's Farm and Market in McHenry, Ill. is just over an hour away from school, and has fall attractions that bring families back year after year. During their Autumn Fall Festival, visitors are invited to pick their own pumpkins from the pumpkin patch, and try more than 35 rides and activities.
To many students, the most exciting part of making a trip with friends to a pumpkin patch is the idea of welcoming the fall season and all the joys it brings.
"Pumpkin patches really get everyone in the fall spirit. It's a really fun place to spend time with both family and friends," Sahgal said.
Rather than taking a trip to the store for your pumpkins this year, consider visiting a pumpkin patch to capture the quintessential essence of autumn.
Leave a Comment
About the Contributors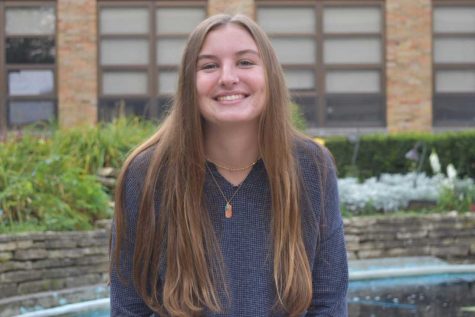 Samantha Moriarty, Writer
Samantha Moriarty is a junior who can most likely be found on the soccer field or on the couch. When she isn't waking up extremely early to fight for...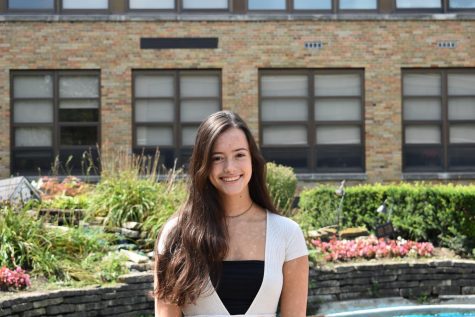 Marelena Halikias, Photographer
Marelena Halikias is a senior photographer for Devils' Advocate. She can commonly be found crying over reruns of The Joy of Painting, offering to sell...