Students of Second Quarter announced
Each quarter, one faculty member in each department is given the opportunity to nominate one of their students to be chosen for Student of the Quarter. Every quarter, 12 new students are selected and honored for the success over the past couple months.
Recently, we were able to interview five of the Students of Second Quarter, who were announced on Thursday, Nov. 30, and learn more about what it means to them to be a leader within the classroom and throughout the school.
The 12 Students of the Quarter include Abby Shievitz, freshman, from the Art Department; Emma Schackart, freshman, from the Business Department; Nicholas Ness, sophomore, from the English Department; Andrew Doromal, junior, from the Family & Consumer Science Department; Karisma Griffin, freshman, from the Mathematics Department; Gretchen Huebner, senior, from the Music Department; Emma Paulson, senior, from the P.E/Drivers Education/Health Department; Alec Hill, junior, from the Science Department; Morgan Chisholm, junior, from the Social Studies Department; David Thormodsgard, senior, from the Technology Education Department; Margaret (Meg) Keller, senior, from the World Languages Department; and Jose Pacheco, freshman, as a School Service Leader.
1. How does it feel to be Student of the Quarter?
Andrew Doromal: It feels surprising to be Student of the Quarter. I found out that there is a lot more going on with a teacher and what they do in our class rather than simply coming in and teaching us material for 50 minutes.
Morgan Chisholm: I feel honored definitely to be Student of the Quarter. I wasn't expecting the nomination, as I don't feel much different from any of the other outstanding students in this school, but I think that it makes me feel like I need to continue to work hard to be more deserving of the award.
Karisma Griffin: It feels really nice and comforting to be awarded Student of the Quarter.
Meg Keller: I actually wasn't able to make it to the recognition ceremony, so it doesn't feel like a huge deal, but I'm really honored that Madame [Tortorello-Allaway] thought of me for this.
Alec Hill: It's a great honor. It's awesome that I stood out to a teacher and got to be recognized for it. There are tons of kids taking classes in each department, so I'm definitely proud of being chosen as the student to represent a whole department for the quarter.
2. Why do you believe you were chosen to represent the department?
Doromal: I'm honestly not sure why I was chosen; I'm sure there are plenty of other students who were also in consideration. It is important to prioritize and excel in our education but also help others excel as well.
Chisholm: There are a lot of students at Hinsdale Central who strive to perform to the best of their abilities in academics and athletics. I would include myself in this group, but specifically, I believe that it had more to do with my unique perspective on historical events and my personality in class that made me a candidate for this award.
Griffin: I think I was chosen to be Student of the Quarter because of my intelligence and my ability to help others in the class.
Keller: I'm really passionate about French, and I love speaking the language. I've always been an active member of class and try to speak and write at the highest level I can.
Hill: I think I was chosen to represent the Science Department because I was consistently engaged with the teacher and engaged with my classmates in a positive way. In his speech at the Student of the Quarter event, [Mr. McCloud] mentioned how he was impressed with the way I always have my notebook and worksheets out right when class starts and how I try to keep the class on task. But I also think I was chosen because my class is full of freshmen through seniors, and I was open to helping all of the other students with their questions or concerns in class.
3. What is your relationship like with the teacher or faculty member who nominated you for Student of the Quarter?
Doromal: I really like Mrs. Meersman. She's a great teacher and a great person in the way that she wants us to succeed and learn but also have fun.
Chisholm: Ms. Patel nominated me for this award and I couldn't have been more surprised. She is easily one of the most charismatic and likeable teachers I've ever had the pleasure of learning from. The fact that she thinks so highly of me that she nominated me for this honor is very special to me because I hold her opinion in high esteem.
Griffin: I transferred into Mr. Frees' [Algebra I] class and I really enjoy it. He makes class fun and really helps out a lot.
Keller: I love Madame [Tortorello-Allaway]. She's very good at relating to her students and isn't afraid to tackle controversial subjects. This year we're really digging into the culture of the French speaking world, looking at topics like love, diversity, and education, and I think [Madame] Tort does a really great job of digging deep into those subjects and looking at them from many angles rather than just scratching the surface.
Hill: Mr. McCloud is the teacher who nominated me, and I'd say we have a great relationship. Mr. McCloud is a very engaging teacher who connects well with all the students. If you polled our class, there's no doubt that everyone would say they love Mr. McCloud. Since earth science has been a super interesting class for me that I like to keep learning more about, Mr. McCloud has been very helpful with answering all of my questions and encouraging cooperation between my classmates and I so that I can apply the lessons and learn lots of cool new facts.
4. What class are you taking in the department you were nominated in, and what are your opinions on the class?
Doromal: I'm taking Creative Cooking II, and it's a lot of fun. If someone is truly passionate about the culinary arts, I would definitely recommend they take all the cooking classes. For students who are unsure of what elective to take: I have been in the same boat, and cooking has been a great experience for me.
Chisholm: I'm taking AP U.S .History (APUSH) right now, and while it is a challenging class and I have room for improvement, I don't feel particularly stressed about it. Ms. Patel puts a lot of effort into making the class effortless to understand and uses tactics that keep us engaged in the course content. APUSH is a course that anyone should take regardless of whether or not they've taken an AP history course before because it takes into account that students are coming in from various levels of rigor, and the teachers adjust accordingly.
Griffin: I am now taking Algebra [I] in the Math Department, and I am fond of it because it is a mix of review for me and learning a couple more new things to go with it.
Keller: I'm taking AP French with Madame Tortorello-Allaway this year, and I really love the curriculum. French 1 through French 3 were very vocabulary and grammar-based, and [French] 4 was French history, but AP is French culture and the French speaking world as a whole. It's really interesting to be able to apply everything I've learned [in French 1 through French 4] to the French-speaking world as a whole in AP. We're really getting into in-depth discussions about big, abstract topics, which I find really fascinating in and of itself, but doing that in another language adds another layer of intrigue.
Hill: I'm taking earth science honors as my science class. Earth science [honors] is an awesome class, and it is definitely one of my favorite classes I've ever taken. I really like earth science because I can relate to it and apply it easily. For example, when we learn about weather trends in the U.S. or constellation patterns in the sky above Hinsdale, those lessons are very applicable because I can think about times that I have seen those trends actually happening around me. I also love the labs that we do. Once, we got to go inside an inflatable star dome and look at projections of stars for the entire 50 minutes. That was definitely the best high school class period I've ever had.
The students selected for Third Quarter will be announced on Thursday, March 8.
Leave a Comment
About the Writers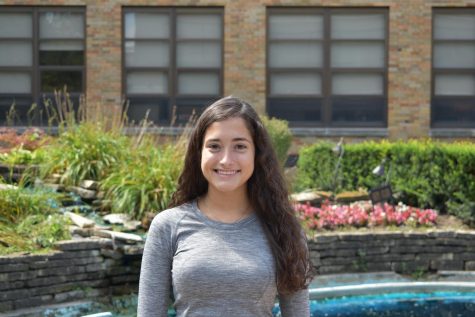 Michalea Halikias, Managing Editor
Michalea Halikias is a senior who can often be found shopping online, listening to music, or hanging out with her friends. She loves watching Master Chef,...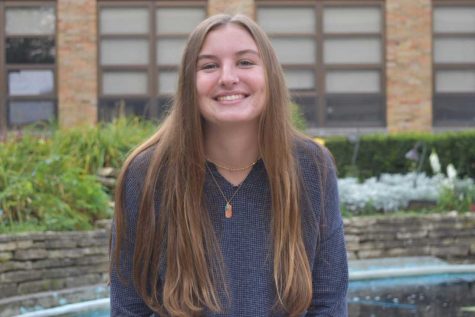 Samantha Moriarty, Writer
Samantha Moriarty is a junior who can most likely be found on the soccer field or on the couch. When she isn't waking up extremely early to fight for...