Red Devils defeat Sandburg 7-4
The varsity hockey Red Devils defeated Sandburg by a score of 7-4 on Jan. 28 at the Willowbrook Ice Arena. The win was their third in a row, and earned them the first seed in the Gold Division for the Illinois West playoffs. 
The Devils controlled the game early, with senior Pete Cook scoring on the powerplay for the game's first score. Junior defenseman Will Romberger scored two consecutive goals, one of them while Sandburg was on the man advantage. 
Senior captain Zach Devine scored two and a half minutes into the second period to push the lead to 4-0, but Sandburg senior forward Alex Karnavas put his team on the board with a power play goal. Sandburg junior Keegan Dickinson gave their team a second goal five minutes later, but Cook brought the lead back to three goals on a pass from senior Alexander Hadesman.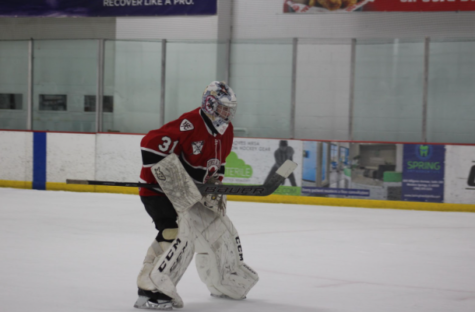 Senior Michael Egan scored for Sandburg in the first minute, but junior Nate Anderson and Devine added two more goals to give the Devils a 7-3 lead. One more goal from Sandburg made the final score 7-4, a powerful offensive show to end the seeding games. Hadesman led the team with four assists, and three players scored multiple goals. Senior goaltender Thomas Labno made 21 saves during the game, and earned his third win in his last four starts. 
With this win, Hinsdale Central takes the first seed into the tournament for the West Cup, where they will play a three-game round robin to advance to the semifinals. The pool is yet to be finalized, but the schedule for Hinsdale Central will be released within the week. 
Leave a Comment