Varsity hockey defeats Waubonsie 5-4, battles for gold seeding
Red Devils varsity hockey beat the conference rival Waubonsie Warriors 5-4 on Jan. 16 at the Willowbrook Ice Arena. After building an early lead, the Devils fought off a late comeback to take the win.
The Devils got off to an uncharacteristic fast start, with senior all-stars Alexander Hadesman and Zach Devine scoring to build a 2-0 lead just five minutes into the game. Sophomore forward James Naffziger scored the first Waubonsie goal in the final minute, but senior Sebastian Dufort restored a two goal Central lead before the end of the period.
Freshman Joseph Pijanowski scored on a loose puck three minutes into the second period, bringing Waubonsie back within one. Dufort added his second goal on a slick move from behind the net, tucking it in for the fourth Devils goal. Shortly after, Waubonsie's senior goaltender Jack Poidomani was replaced by junior Andrew Fichtel.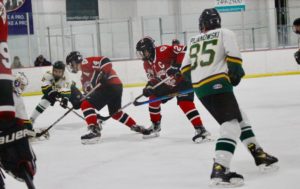 A hooking penalty by Pijanowksi led to senior Pete Cook scoring a power play goal, bringing the lead to 5-2.
A too many men penalty by the Devils led to senior all-star Ryan Burk capitalizing on a rebound in the first minute of the period. After 14 tense minutes, fellow all-star Evan Ziegler cut through the Central defense and beat goaltender Thomas Labno to make it a one goal game. However, Waubonsie struggled to apply pressure with their net empty, and the game ended in a 5-4 victory for Hinsdale.
The Devils are currently qualified for the gold seeding division in the Illinois West conference, meaning they are a lock for the playoffs. Having played seven games, the team has three wins and are currently tied for third place, along with Maine and Waubonsie.
The next game is against gold-seeded rival Sandburg, at 5:10 p.m. on Jan. 28 at the Willowbrook Ice Arena. 
Leave a Comment
About the Contributor
Finley Bisch, Writer
Hi! My name is Finley Bisch and I am a senior at Hinsdale Central! I'm a cheerleader, runner and a member of the Devils' Advocate (obviously)! When I'm...