On Wednesday, Nov. 1, the Hinsdale Central Hockey team lost to the LT Lyons with a score of 5-1.
The first period was uneventful. Both teams were aggressive, but it didn't result in any points with the score at the end of the period being 0-0.
"We held with them for the first half," said Will Romberger, senior captain. "I'm proud of us for that."
The teams continued to get heated in the second period. Marcus Weller, junior, got ejected from the game for spitting on an LT player. Weller stood in the crowd for the rest of the game. 
Story continues below advertisement
After this, the Devils couldn't get it together, and LT scored a goal with 3 minutes and 15 seconds left. The Lyons brought the score to 1-0 to end the second period.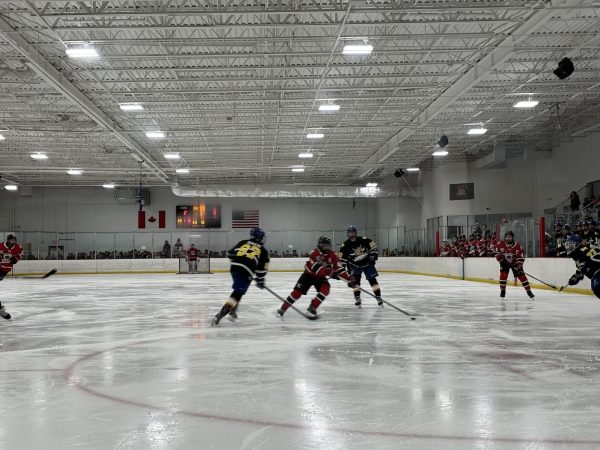 After the zamboni break, LT started the third period strong by scoring just a minute in, bringing the score to 2-0. 
The game was stopped halfway through the third period because of a rink malfunction. After the glass was fixed, the Devils were back in play.
Just a little after that, Carter Draudt, junior, scored a goal. This seemed to boost the team's morale and brought the score to 2-1 with 10 minutes and 5 seconds left in the final period. 
"The student section is always so fun at these games," said Charlie Gilman, senior. "We went crazy after that goal."
LT was able to respond just two minutes later, bringing their lead back to 3-1. In response, the Devils pulled Miles Anderson, their senior goalie from Benet Academy.
This led to yet another LT goal and for Spencer Anderson, the Devils head coach, to put Miles back in the game.
With 18 seconds to go, LT puts up another goal. This caused a fight to break out with Miles Anderson at the center.
"Rivalry games always get so intense," said Sam Carter, senior. "Fights happen a lot, people just get heated."
The referees called the game, leaving the final score at 5-1 with the final LT goal counting in the total.
"Overall, I do think we played a good game and put in a lot of effort," Romberger said.
The Devils play their next conference game on Sunday, Nov. 5 against OPRF. For more information, visit here.