What to binge-watch while procrastinating
With finals approaching, it's now prime-time for procrastination, which leads students to wonder: what should we binge watch? Well, I'm here to assist you in your stalling. Below is a list of 11 shows recommended by both students and me, a self-proclaimed Netflix connoisseur.
"Arrested Development" – (4 seasons, 68 episodes) This is the story of the Bluth family after the imprisonment of their grandfather and the attempt of their father, Michael Bluth, to set a better example for his own children. "Their screwed up family is so realistic that it's hilarious," said Laura Diggs, junior.
"New Girl" – (Season 5, on air) A female teacher moves into a loft with three men after a breakup. This leads to ridiculous antics that are sure to make you laugh for a full 22 minutes. The best part about this show? It has just been renewed for a sixth season!
"Gossip Girl" – (6 seasons, 121 episodes) "Gossip Girl" features a group of friends from New York City's Upper East Side as they move from high school to college, where drama is never short in supply. "Their lives are so surreal, but because the characters' personalities are so unique, you find yourself relating to them in one way or the other," said Poojitha Nettem, junior.

Wiki Commons
The Gossip Girl cast is known for its attractiveness and on-stage chemistry.

"The Sixties "– (1 season, 10 episodes) For those of you who enjoy history, this show is a great account of one of America's favorite decades. "The Sixties" showcases topics such as the rise of television, the assassination of John F. Kennedy, the Space Race, and much more.
"How I Met Your Mother" – (9 seasons, 208 episodes) A group of five friends struggle to survive in the adult world while hilariously dealing with problems such as relationships, jobs, and the endless quest for love.
"Friday Night Lights" – (5 seasons, 76 episodes) This show is the story of a football team and their struggles to win big. It shows a multitude of relatable characters, all of whom you are sure to fall in love with. "This show involves sports and drama, making it super relatable. The main character, Tim Riggins, is the best character in the history of TV," said Jane Kealy, junior.

Courtesy of Wiki Commons
Taylor Kitsch plays Tim Riggins, a favorite character on Friday Night Lights.

"Parks and Recreation" – (7 seasons, 125 episodes) This show is a hilarious representation of small-town government and one woman's hope to make her town better. "Parks and Recreation" is most well-known for its abundance of characters and personality types.
"Breaking Bad" – (5 seasons, 62 episodes) Meth, cancer, and one man's desire for wealth are themes in this show about Walter White's struggle to secure enough money for his family after a cancer diagnosis. This is a great action-filled show for people who like to be on the edge of their seat.
"Unbreakable Kimmy Schmidt" – (2 seasons, 26 episodes) This show is a great quick-watch about a woman who was kidnapped and still manages a child-like zest for life.
"Arrow" – (4 seasons, on air) Enjoy your share of comic book television with this super hero. "Steve Amell and Colton Haynes are hot," said Alison Albelda, junior.

WIki Commons
Colton Haynes is a favorite from both Arrow and MTV's Teen Wolf.

"Orange is the New Black" – (3 seasons, 39) This is the best time to start this show, as season four makes its Netflix premiere on June 17. This show features Piper Chapman's imprisonment and the people she meets in Litchfield Prison.
Bonus: "Man in the High Castle" – This show, though not on Netflix, is an amazing story of a Post-WWII America had Germany and Japan won. This show is great for everyone because its numerous characters with one Anti-Nazi mission are sure to be of interest. Additionally, the good looks of the show's male cast is sure not to disappoint. "Man in the High Castle" can be streamed on Amazon Prime.
Leave a Comment
About the Contributor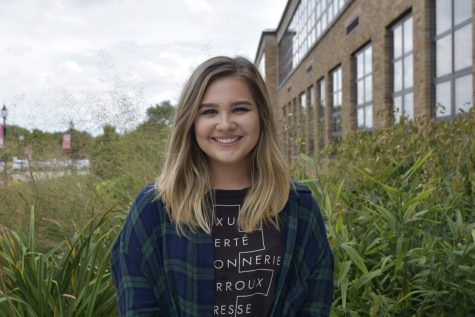 Riley Kowalski, Editor-in-Chief
Riley Kowalski is a senior who has immense difficulty writing about herself in the third person. Riley loves to drink coffee and take naps (in that order)....