Boys' Varsity Soccer loses first Silver Brick Match since 2011
On Friday, Sept. 23, Boys' Varsity soccer turned over the Silver Brick, a trophy given annually to the victor of the Hinsdale Central vs. Lyons Township soccer match, after a 2-2 draw against Lyons Township (LT). The Red Devils lost in penalty kicks after two 10-minute overtime periods.
With the highly sought after Silver Brick on the line, both teams were ready for a fight. Up until Friday, Central had held the Silver Brick since 2011.
The Red Devils opened up the scoring in the 42nd minute with a left corner shot from Jeremy Yi, senior. Only a minute later, Jake Semba, senior, placed a shot in the upper right corner of the net for a second goal. The Devil's momentum was interrupted by a goal in the 50th minute by  LT defender Alec Gilchrist. Gilchrist would go on to score a second goal for Lyons Township in the 71st minute.
With the score leveled, the Silver Brick match headed into two 10-minute overtime periods with no scoring, leading to a penalty kick shootout to decide the victor. Lyons Township came out on top, defeating the Red Devils 5-4 in PKs and claiming the Silver Brick.
Despite the result, Ake Semba, senior forward, acknowledged some positive takeaways from the match.
"Our intensity was fantastic, we had high defensive pressure and a great mindset to score. We were dominant in winning tackles in the midfield and our set plays were working well. Eventually, the goals came," Semba said.
Additionally, Semba cited areas where the Red Devils showed poor form against LT, issues that will have to be addressed in the next month leading up to the playoffs.
"One on one defending was very poor which allowed LT forwards to get crosses into the box. This allowed them to get momentum which led to another goal," Semba said.
He also expressed disappointment in the fact that the team did not play to their potential during the penalty kicks, among other aspects of the match.
Although the result was unfortunate, Varsity Soccer's dedicated supporters were happily along for the ride.
"It was a thrilling and suspenseful heartbreaker," said Nate McGowan, senior.
On Saturday, Oct. 1 the Red Devils will face Willowbrook at Willowbrook High School.
Leave a Comment
About the Contributor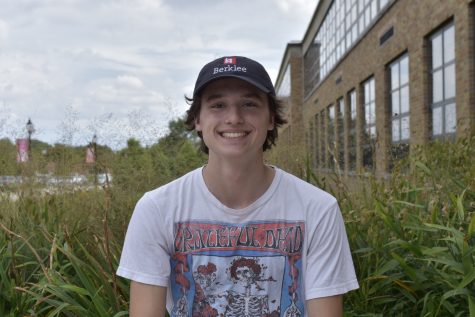 Emmett Grundberg, Writer
When he's not chasing the headiest Phish jams, he's probably at Toyota Park watching the Chicago Fire find new and creative ways to lose soccer games....