Varsity soccer wins in sectionals against LT, 2-0
On Oct. 25 the Hinsdale Central boys varsity soccer team took on the Lyons Township (LT) Lions in a IHSA sectionals game at home on Dickinson Field at Hinsdale Bank Stadium. At the end of the game, the Devils were victorious with a score of 2-0. This led to a 
This sectional game comes just three days after the IHSA regional game, in which Hinsdale Central beat Whitney Young in a double overtime. That game marked the 400th win of Coach Wiggins's career and it was held at Proviso East High School.
This was the second time that Hinsdale and LT have played this year, the first ending in a 2-4 loss for the varsity Devils. That was during the regular season, but now the two teams face off again in the playoffs for the state championship.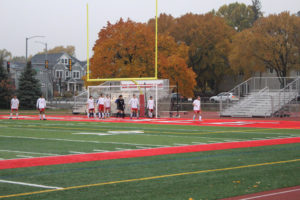 With 20 minutes left in the first half, sophomore Austen Szurgot scored, creating a 1-0 lead for the Devils.
There were no more scores in the first half, but this was followed up with a score from Luca Davies with an assist from Braden Henry with 5:38 left in the match. This brought the score to 2-0, securing a lead for the Devils. 
The match ended with a win and a final score of 2-0. This win secured the Hinsdale Central Soccer program a ticket to the next round of playoffs. 
The final round of sectionals will be held at home in Hinsdale Bank Stadium again on Friday, Oct. 28 against Benet Academy. 
Leave a Comment
About the Contributor
Finley Bisch, Writer
Hi! My name is Finley Bisch and I am a senior at Hinsdale Central! I'm a cheerleader, runner and a member of the Devils' Advocate (obviously)! When I'm...