Badminton teams play in tournament
On Saturday, April 13, the Hinsdale Central varsity and junior varsity badminton teams hosted a tournament. The varsity team placed first in their tournament, while the junior varsity team placed second.
The Birdie Bash was a tournament in which several other badminton teams, such as Neuqua Valley High School and Buffalo Grove High School, played in a bracket-style tournament. Coaches from every team meet before the tournament to form the bracket by drawing positions for each individual player and each round.
On both the varsity and junior varsity team, each team member plays either doubles with another member or singles. The coaches then pick their rankings, ranging from ones singles to four singles and one doubles to four doubles. During the tournament, the team members play several other players at their same position.
The badminton season began around early March, with their first meet against Oswego West High School in the middle of March. Since the beginning of the season, the whole team has been practicing six days a week, with practices on Saturdays. The team plays in meets at least two times a week and in tournaments nearly every Saturday. Because the season for the JV and freshman teams finishes at the end of April, the meets are very frequent and practice is almost daily.
This extensive practice and the hard work of the badminton players has paid off, as both teams performed well in their tournaments.
"We beat Neuqua Valley, Buffalo Grove, and a bunch of other highly decent badminton teams by a lot, so overall, it was a good day," said Angela Han, senior varsity player.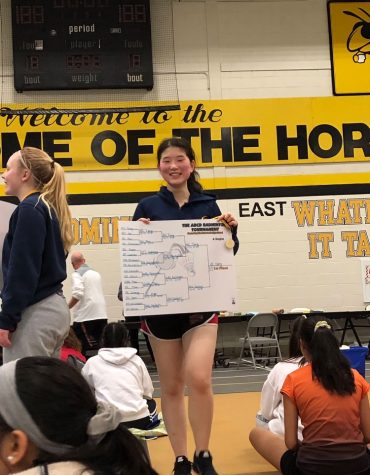 Han played second singles in the tournament and won second place for her position. Similarly, Anuha Parvataneni, sophomore JV player, won second place for second doubles.
Varsity players, like Han, are looking forward to sectionals and State in May to perform their best, while JV players want to enjoy the rest of the season.
"I'm looking forward to practices because I can joke around with my teammates since we are really close," Parvataneni said. "Plus, I love talking to Coach Penksik because while he jokes around with us, he is a really good coach."
The next badminton meet will be on Wednesday, April 17 against Lyons Township and the next tournament for the varsity team will be on Saturday, April 20 at Hinsdale South.
Leave a Comment
About the Contributor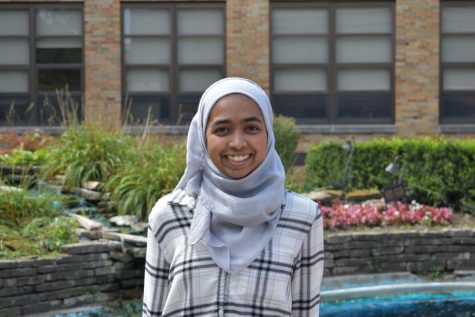 Saba Ali, Editor-in-Chief
Saba, senior, is a chocolate vacuum (basically eating any chocolate in sight) and a nap queen, who can take a nap virtually anywhere. She loves Ben &...