Hockey prepares for upcoming season by making most of preseason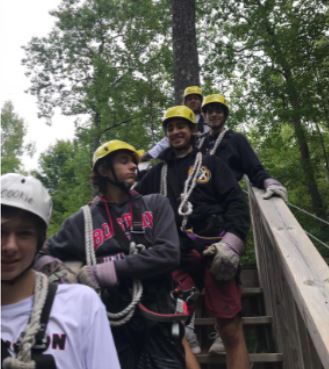 With preseason in full swing, the Hockey Club is gearing up for the upcoming season. Through team-building activities and thorough practices, the club is strengthening their community within the team and showing their love for the game.
"To me, hockey is more than a game, it's a reallife experience," said Nikolas Dimitriou, varsity player. "Hockey teaches me a lot about hard work, dedication, and how to be part of a team and work well with others and feed off each other's ability and strengths and weaknesses."
With conditioning every week, two-hour practices every day Monday through Thursday, and separate camps for
various positions to build up their skills and get the players used to the ice, the players have little downtime. This club also has routine team-building exercises, called battle camps where the team can build on their skills and team chemistry.
Many of the players have been playing since a young age, drawn in by friends and family and staying because of their enjoyment in the game.
"Some of my friends at the time also played hockey so I started playing with them and my dad really loved hockey even though he never played," Dimitriou said.
His brother, Alex Dimitriou, varsity player and nominated varsity captain, also said that his motives for joining the hockey team stemmed from his father's relationship with it.
"Since before I was born, my dad was really into hockey, and he really motivated me to play and then my brother followed in my footsteps," Alex said.
Hockey has not only influenced the players personally and athletically but other aspects of life as well.
Although Matt Johnson, a varsity player, and Nikolas Dimitriou agree that hockey doesn't majorly affect academics other than balancing time, they both said they believe that hockey definitely benefits their social life.
"I made a lot of friends through hockey. I had an opportunity to talk to people that I normally wouldn't be available to and to form bonds with a lot of different people," Johnson said.
Due to the fact that the club is somewhat of a brotherhood, according to Dimitriou, the players embrace the team attitude, dynamic, and community and truly get involved instead of just going through the motions. With this atmosphere, the players agreed that this season will get to showcase all of the bonding they did during the preseason.
Leave a Comment