Blast from the past
Every day, high school hallways are flooded with students ready to learn, just as it did years ago when students' parents attended such institutions. Besides just studying, school is a place for teens to socialize and connect with their peers. A part of finding one's identity is choices in fashion. With the school year coming to a close, it's a good time to reflect on what trends dominated the fashion world, and how many of them are the same as those decades ago.
Libby McCarthy, 16, is one of many students who appreciates "vintage" style clothing.
"I would consider my style a mix of grunge and retro," McCarthy said, "I like past style because I think it's really interesting and gives a lot of depth to outfits."
Some examples of past trends back on the rise are high-waisted bottoms, high socks, flannels, scrunchies, boyfriend jeans, Patagonia, Converse, and Ray Bans.
"I think that popular stores such as American Apparel specialize in producing this type of clothing, and it has gained a lot of traction on social media," McCarthy said.
Tracy Ging, a mom who graduated in 1986, loves seeing these trends on her daughter and other students.
"I used to wear Sperrys and hair scrunchies, and I find it funny how these styles have made their way back around. Fashion has a cool way of repeating itself," Ging said.
Websites such as Tumblr and Vsco have made personal style and creativity really popular, giving teens an outlet to post their own quotes and photography. Several of these posts are created on an artsy and "old-fashioned" basis. Urban Outfitters, a top store in the teen clothing market, sells Polaroid style cameras which have been very successful this past year. This is another example of how today's youth have a desire to go back in time and utilize trends from a simpler time.
This growth in clothing trends is popular among both guys and girls. Rami Alzein, 16, regularly wears Timberlands and Patagonia jackets .
"I think it's important to have some sense of style, and I'm inspired by these past looks," Alzein said.
Throughout time, fashion has evolved and built off what came before. Teens enjoy taking their identity into their own hands, and giving a nod to the past in their increasingly rapid and modern lives.
"It's definitely somewhat surprising that these styles are popular, because a lot of what exists in our society today has changed entirely since my parents were my age." Alzein said.
McCarthy agreed, "With the growth of technology, a lot of new elements of culture exist today. I think decades such as the 80s were really cool, and I don't want them to be forgotten."
Besides just clothing, vintage style is popular in music, food, and accessory choices.
"I'm glad that my generation is influencing the current one," Ging said, "and it's really fun for me and other parents to see these similarities."
Even with the many trends of today that only modern teens would understand, there are many other ones that their parents got to first. Instagram may seem foreign to parents, but they identify well with the outfits being posted. Who knows what will be next for teen fashion?
Leave a Comment
About the Contributor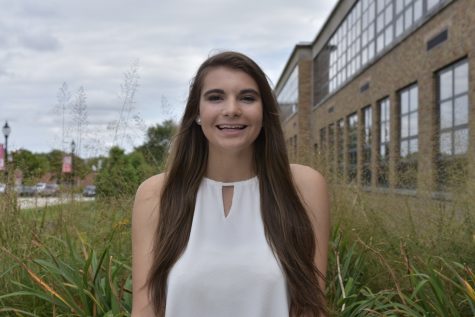 Shannon Ging, Sports Editor
Senior Shannon Ging loves writing for Devils' Advocate, especially if it is about sports. She spends most of her time cheerleading, whether it's for the...