A charming addition to downtown Clarendon Hills
Nestled in the small, homey town of Clarendon Hills, a boutique by the name of Vintage Charm opened its doors last September in 2015. Adorned with a black and white striped awning above an ever-changing window display, the store adds a vibrant, unique touch to the town. As the first-year anniversary approaches this month, store manager and assistant buyer Jane Gacek take a look back on how the business has grown and continues to thrive at the newest location.
"It's been really good. We've loved being part of the community," Gacek said. "This community definitely needed something that we could offer."
With two other locations in La Grange and Bucktown as well as one set to open in Indiana this month, there's no doubt that this local business is expanding.
"[The location] is a lot different from La Grange. [There are] different customers too," Gacek said. "It's definitely smaller so I like to pull a lot of pieces that really sell well in La Grange and bring them here."
The store offers unique finds ranging from clothing to home decor and an abundance of jewelry lines making it easy to find something for every style.
"We're always looking for vintage-inspired pieces to really set us apart. A lot of people say we're like a mini Anthropologie," Gacek said.
Offering popular, well-known brands among fashion seekers such as Free People, BCBGeneration, and many more, Vintage Charm has become a local place to shop brands that some would otherwise travel or shop online to find.
"We try to find unique items that people don't have to run to the mall to get," Gacek said.
Looking around the store, one can find a  wide array of beautiful merchandise displays. At this time of year, the displays have an Autumn type of feel as most are embellished with rich washes of color, cozy knits, and candles hinting at the arrival of the cooler seasons.
"We get new stuff in every day," Gacek said. "We always look at what fits for the season like what colors are going to be trending."
Even the outfits that are made for the displays express the changes in season. Throughout the store, hangers are draped with the latest pieces to serve as style inspiration while browsing. Items currently featured include cable knit ponchos, tunic dresses, ankle boots, and mock neck tops for layering.
Vintage Charm's first year in Clarendon Hills has been quite the success considering local shopper's love for its merchandise variety as well as its "right around the corner" location. The ease of shopping in the local town of Clarendon Hills is something student shoppers look to when their busy schedules keep them from traveling to the mall or big department stores.
"It's a cute store with cute clothes and it appeals to all ages,"  said Josie Wooldridge, junior.
Most students would agree that the shop appeals to mostly female shoppers, but would also encourage males to shop for mom or sister here.
"The people who work there are very kind and helpful," said Emerson Wilson, senior. "I bought four dresses from there. They were summer dresses so they were very colorful and unique."
Whether you're in need of a gift this coming holiday season, or maybe you're just looking for a new addition to liven up your closet; consider shopping local at Vintage Charm.
Leave a Comment
About the Contributor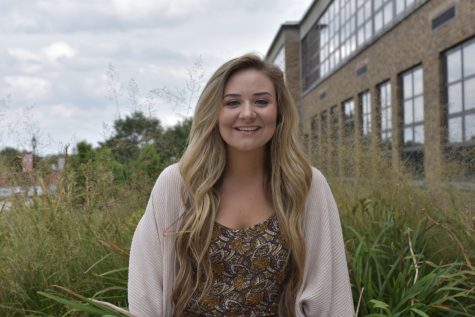 Holly Swasko, Writer
Known for her love of rose gold and cardigans, Holly Swasko, senior, will rarely be seen without at least one of them. When she isn't posing for an "OOTD"...