Fashion Merchandising students get glimpse into design industry
Just one look into the display windows at the mall has the ability to draw customers in and create inspiration for new outfit ideas. In Mrs. Sopiarz's fashion merchandising class, students are learning how to bring their own visions to life using the display case located in the Family and Consumer Sciences (FACS) hallway.
The project, which spans over the course of the semester, gives each individual or group one week to have their display featured in the case. However, much classroom preparation takes place before students are able to get started.
"As a class, we discuss elements and principles of design as well as visual displays.  We discuss what makes good and bad displays based on the elements and principles of design, such as color and rhythm," said Mrs. Lisa Sopiarz, fashion merchandising teacher.  "We critique pictures of visual displays from magazines, the Internet, as well as pictures students take while out and about."
After getting an idea of what makes for an effective and appealing display, students then move on to choosing their theme that they want to base their display around.
"Themes students have chosen include special events, such as homecoming or New Year's Eve, specific designers, stores, makeup, seasons, [and] cultural garments," Mrs. Sopiarz said.
After submitting their theme, students bring in supplies on their scheduled in-class day for decorating. Students are allowed some classroom-provided materials such as shelving, hooks, and lights, but much of it is left up to their own creativity to put together their best display.
Overall, students' attitudes are positive as they are able to learn and enjoy themselves throughout the process.
"I loved being able to get involved in a project [that] I was really passionate about," said Rheana Montesantos, sophomore.
In terms of grading, displays are judged on their visual appeal and how well they follow the principles of design.
"They learn the value of constructive criticism as we peer review every display case," Mrs. Sopiarz said.
The project is designed to help students understand how advertising and visual merchandising play a role in the fashion industry. By applying the newly-learned knowledge to a real-life scenario, students get an idea of what it's like to work behind the scenes in fashion.
"Doing the window displays allowed us to express our personal fashion and allowed us to share it with the school," said Lizzy Brankin, senior and former fashion merchandising student. "The display resembles one in a storefront and gave us a glimpse into producing and designing in the fashion industry."
The visual merchandising component in the fashion industry today plays a big role in brand identity and consumer behavior. Learning about it helps students prepare for a multitude of careers such as retail positions, designers, stylists, creative directors and many others.
Because of its significance in the industry, there are even related majors that focus on these aspects at fashion schools like FIDM, where a visual communication degree is available to prospective students.
"You can convey a lot without using words.  Sometimes it's the visual display, and the visual display only, that gets a customer into the store," Mrs. Sopiarz said.
Students who express interests in the fashion industry can benefit greatly from taking the fashion merchandising class. Other units covered include, history of fashion, sketching, logo design, fashion shows, and even merchandising math; all of which use real-life scenarios to help students prepare for future endeavors in fashion.
The class is an elective open to grades 10-12. Be sure to stop by the FACS hallway to check out fellow classmate's designs in the display case and to see their developing skills in action.
Leave a Comment
About the Contributor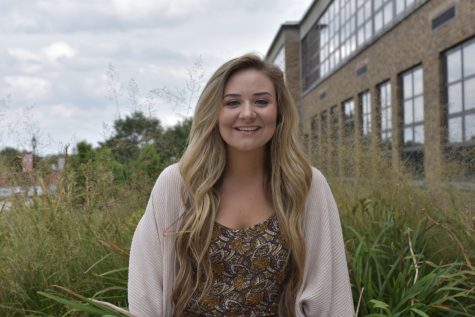 Holly Swasko, Writer
Known for her love of rose gold and cardigans, Holly Swasko, senior, will rarely be seen without at least one of them. When she isn't posing for an "OOTD"...