Perfect pairs: Fall and Winter denim trends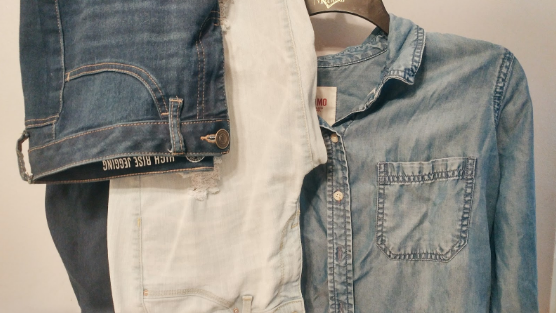 If you're looking for a new pair of jeans for the Fall and Winter, there are a ton of new styles to try out. This year, trends have proven that it's all in the details.
Bell bottom jeans have made appearances numerous times throughout the decades. Once again, they have returned to stores for the season with a fresh twist on the classic silhouette.
The style has certainly evolved since the extra wide-legged flares of the 1970s. After a few updates such as newer fabrics and rises, they can now be paired with your modern favorites such as basic sweaters and wedged boots with ease.
Some brands are even experimenting with length, opting for more cropped styles.
"My favorite thing about the bell bottom trend is its evolution into the cropped flare," said Jenna Wojciechowski, fashion assistant at Allure. "There are the more exaggerated cropped flares from brands like Ellery and Beaufille, and then the more subtle seen from Frame Denim and Marques."
Another part of what makes jeans such a classic closet staple is the wide-range of colors there are to choose from.
While jeans can range from the traditional blues to brightly dyed fabrics, one of the current color trends for the fall and winter season is anything but basic. Some designers have begun to incorporate two different color washes in one pair of jeans with patchwork detailing.
Whether it be a light wash with darker strips of denim along the outer seams to contrast, or even just little add-in patches on the pockets, the trend is sure to turn your everyday skinnies into a unique statement piece. Try pairing them with a basic white t-shirt to allow the jeans to be the focal point of your look.
Another trend being spotted on both runways and store shelves is the slightly distressed feature of raw-cut hems.
Contrary to the traditional sewn hems on jeans, raw-cut hems are often frayed and unfinished. Similar to ripped denim, but just in a different location. Fashion enthusiasts have been loving the trend so much, that some even started making their own raw hems using DIY tutorials.
Students look to jeans as being a reliable, fuss-free option for school days when looking to stay warm and fashionable. When looking for the perfect pair, local malls are a great place to start as you are able to compare several options in one place.
"I like shopping for jeans at American Eagle because they're good quality and don't fall apart," said Grace Doyle, junior.
Jeans have always been known and loved by all, however, denim isn't limited to strictly bottoms anymore. Lately, it has been coming more and more prominent in other articles of clothing.
Another way to wear denim is trying out chambray shirts. Though chambray is simply a tightly woven cotton material, it is often dyed blue, which mimics the appearance of denim fabric.. The material is light, breathable, and less stiff than authentic denim, yet still conveys the look of it.
"Denim shirts go great with leggings, cute boots, a statement necklace, and bracelets. You can even add a scarf to dress up your outfit," said Lily Chrones, senior.
So, if you're looking to purchase something that is guaranteed to never go out of style, denim is a great way to go. However you choose to wear it, don't be afraid to try something new this season.
Leave a Comment
About the Contributor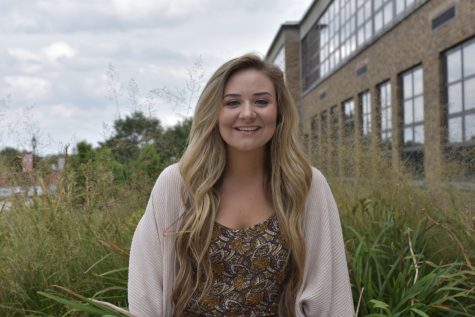 Holly Swasko, Writer
Known for her love of rose gold and cardigans, Holly Swasko, senior, will rarely be seen without at least one of them. When she isn't posing for an "OOTD"...