Mad about plaid: incorporating the pattern into your style
Chances are that anywhere you go, you're likely to see someone sporting plaid. Especially in the cooler months, this trendy pattern can be incorporated into many different looks.
Originating in Scotland as the symbolic national dress, plaid has come a long way since its early days. Often referred to under the authentic name, "tartan", the term plaid was coined as American and British textile industries adopted it and began using the pattern in clothing.
Since then, it has shown its prominence in the 1960s with the rise of wool skirts and coats. It also gained popularity during the 1990s, a period of grunge fashion, becoming popular in the form of flannels among teen shoppers.
As fashion trends of the past usually make their way back to present-day runways, plaid has made its way back mostly in the form of button-downs and accessories.
"Things from the 1990s have been coming back and plaid is one of them," said Emma O'Hea, sophomore.
A popular pick among plaid items is the oversized flannel. Some are meant to have more of a looser fit, while others are more structured. If you're looking for a more relaxed fit, try buying a size or two up to achieve the desired look. This trend is popular among students who opt for comfort as well as style.
"I like wearing plaid flannels and when I do, I wear them with leggings," said Emma Stewart, freshman.
The relaxed fit of the shirt makes for the perfect casual-day outfit. This type of outfit pairs well with a pair of tall riding boots for a well-proportioned and effortless look.
Plaid is also an easy way to add a pattern to an otherwise simple look. Starting with an outfit consisting of basics such as solid knits and jeans, you can transform your look by adding in a colorful, bold pattern like plaid.
An easy way to do this is by switching up your backpack or purse on days where your outfit remains fairly simple.
The criss-cross pattern is commonly seen in accessories such as the trademark Burberry scarf, for example and can add a chic, unexpected touch to solid bases.
Like womenswear, plaid has become a must-have pattern in menswear as well.
"Fall is an essential time to rock plaid shirts and accessories, it's an easy way to throw together an outfit without looking thrown together. Keeping in line with the 90s trend that has been coming in hot this season, a plaid button-up can easily be worn in the traditional sense or tied around the waist for an effortless transitional look," said Thomas Trust, a Chicago menswear blogger.
Through the plaid trend, we can see that no matter what style, it's something everyone can implement into their wardrobe.
"Living in Chicago and always being on the go, you need pieces that are going to keep up with you and be ever-changing like the weather. Plaid may not be the most revolutionary trend out there, but it's here to stay and for good reason," Trust said.
As modernized as they have become, there's a lot of history behind the flannels that you see sold in stores today.  All in all, the trend has been and continues to be a great example of how an older yet simple concept in fashion can evolve into something that is known and loved by all.
Leave a Comment
About the Contributor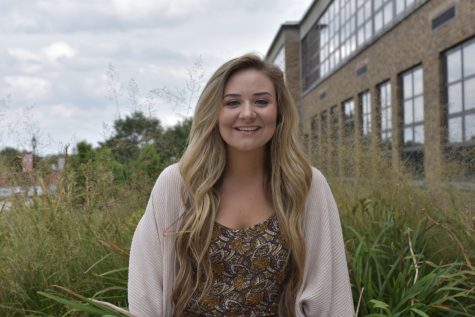 Holly Swasko, Writer
Known for her love of rose gold and cardigans, Holly Swasko, senior, will rarely be seen without at least one of them. When she isn't posing for an "OOTD"...