Affordable fashion: budget-friendly shopping tips for students
When it comes to fashion, clothing and staying on trend can surely add up in the long run. However, in today's world, there are plenty of ways to shop smart and score deals that will keep your budget in check.
One good habit to form while shopping both in-store and online is using coupons or promo codes.
There are often times where coupon values are overlooked or times where you don't even think of using them. However, it's one of the fastest and easiest ways to cut down your total by a significant amount. To find them, try looking through your favorite stores catalogs, or on websites such as Retailmenot.com or Coupons.com.
Handing your cashier a coupon or entering a code at checkout only takes a few seconds of your time yet can make such a huge difference.
Another way to save money is by stocking up in the basics section found in stores such as Forever 21, H&M, and even inside of larger retailers.
"I always shop at Nordstrom for the best deals," said Sofia Malamazian, freshman.
Any basics section is normally made up of the common wardrobe necessities. Things like non-printed tees and tanks are available in these areas. Because of their simple and solid appearances, they make for great bases and layering pieces in your wardrobe at a reduced cost.
For example, your favorite plain white tee that pairs with everything is likely something that will never go out of style. Stocking up on these types of pieces is a smart, budget-friendly way to create versatility and endless combinations.
"Don't spend money on trendy items such as a handbag with tassels. What is on trend today will almost definitely not be on trend six months from now. Instead shop the trends at more affordable stores such as Forever 21 or Zaful and spend money on classic items such as an everyday black handbag or for a splurge, a classic Louis Vuitton. Those never go out of style," said Alison Barker, blogger of The Frugal Fashionista of OC, a budget fashion blog.
Another way to save money is by looking for discounts that are exclusive to students.
One way to do so is by signing up for a student discount site like Unidays.com. Unidays is a website that frequently partners with your favorite store to offer unique and exclusive discounts just for members. It's free to sign up and is a helpful resource to go to when other coupons aren't available.
Something else to note is that even though Unidays is known for working mostly with clothing brands, they do offer other discounts for necessities that students may need such as tech accessories and classroom essentials which can be convenient, especially when shopping during the school year.
If you're unable find what you're looking for  on Unidays, you can always subscribe to your favorite store's email newsletters. Many stores often send you a code just for signing up and are a great way keep you up to date with sales you might have otherwise missed.
In the end, it all comes down to being mindful in your spending. Everyone may run into an impulse buy at some point, however, learning to avoid these situations in the future is the most important takeaway.
"If you are second guessing on if you're going to buy [an item], then don't get it," said Chloé Lapointe, freshman.
Small changes can lead to big savings and rewards in the future. The next time you take a trip to the mall, be sure to keep these tips in mind.
Leave a Comment
About the Contributor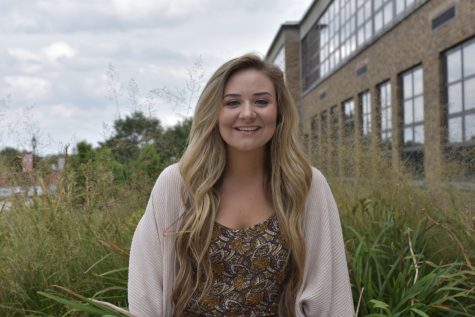 Holly Swasko, Writer
Known for her love of rose gold and cardigans, Holly Swasko, senior, will rarely be seen without at least one of them. When she isn't posing for an "OOTD"...