Staying warm with winter accessories
When the wind chills drop, going outside can be dreadful. However, staying warm during Chicago's snowiest season is easy with the help of some currently trending accessories.
Something that has been frequently spotted in catalogs and throughout stores is the trend of incorporating faux-fur into pieces. Before, it was common to see faux-fur on coat hoods and boots, but now it's been expanding on to a variety of accessories like draped vests and scarves.
Furs in a wide range of colors such as dark reds, mauves and tans are popular among fashion lovers and add a nice, seasonal wash of color as well as texture to your look. An added plus to the trend is the extra layer of warmth that certainly comes with it.
Another trendy item to help keep out the chill is a knit headwrap. Think of the fleece headbands you wore as kids, but with a few upgrades.
These headwraps now come in thick, chunkier knits and often feature details like wood-grain buttons, braided patterns, and embellishments. You can find these in the accessories sections in stores like Sole Society, but there's also a great chance of finding homemade originals from independent sellers on Etsy.
These not only come in handy as a fashionable hair accessory, but they are also a stylish yet functional way to protect your holiday hairstyles from the snowy outdoor conditions. If protecting your hairstyle from the weather is your primary goal, full coverage hats like knit beanies are also here to stay this season.
"I usually get beanies from H&M because they're so cheap and cute," said Gabi Delson, senior.
Another way to add layers and accessorize is by incorporating blanket scarves into your look.
Blanket scarves are typically bigger in size and can be folded and tied to be worn several different ways. Depending on the look you're going for, trying out different knots can be a fun way to change up your winter style. There are so many options from sophisticated slip-knots to more casual ties like the double loop.
These are also great transition pieces taking you from the snowy outdoors to the indoors with ease. They're warm enough yet have minimal bulk.
For guys, footwear always plays a huge role in any winter outfit.
"I am enjoying the "Moc-Toe" boot trend. It is a boot that you can wear both casual and business casual, as well as it is more durable than Chelsea Boots," said Evan Marshall, web manager and style editor of High Fashion Living.
These hand-sewn leather boots are an ideal option for snowy days due to their durability. They also come in a variety of leathers such as black, browns, and creams.
While winter weather can often be unpredictable, students tend to enjoy keeping their classic favorites on standby in order to take on any cold weather scenario.
"Some says I feel like dressing up usually in a vest or a sweater. But other days, a sweatshirt is what I want to throw on when it's so cold outside," said Maggie Moeller, senior.
Whatever you choose to wear this season, be sure to stay warm and have fun with your outfits!
Leave a Comment
About the Contributor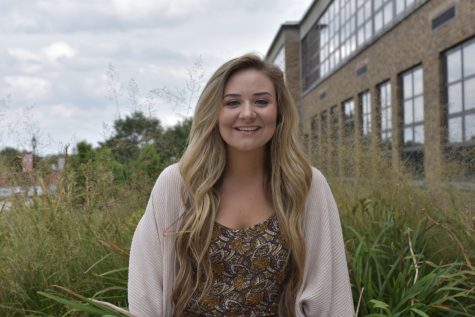 Holly Swasko, Writer
Known for her love of rose gold and cardigans, Holly Swasko, senior, will rarely be seen without at least one of them. When she isn't posing for an "OOTD"...