Beauty tools that will speed up your routine
When sleep is a necessity and early mornings are unavoidable, timing is everything. To make getting ready easier, here are a few beauty tools that can help speed up the process.
Efficiency is key when it comes to both tools and makeup products themselves. One product that's great for quick applications and also has multiple uses is a Beauty Blender sponge.
"One of my favorite tools is a Beauty Blender. [It] works for not only liquid products but also is great for creating a more seamless and airbrushed look to the skin after powder and highlighter," said Ugne Sitarz, owner and freelance artist of Zratis Artistry, based out of the western suburbs.
These sponges are quite popular and are widely used throughout the makeup industry. They're best used when they are damp as they expand and become increasingly softer.
The sponge features a wider end to cover larger areas, and a narrower end to be used in smaller areas, such as around the eyes. The shape as well as its flexibility makes for a foolproof tool to assure quality blending in half the time.
Another efficient beauty tool to check out is the Brushegg, a small glove lined with grooves and ridges that helps aid in washing your brushes. The scrubbing surface helps rid brushes of leftover product and pigments that are left in the bristles.
Cleaning brushes is an important step that's often overlooked and skipped because of how time consuming it can be. However, a tool like the Brushegg can definitely help speed up the process.
If you're not a fan of washing by hand, a newer yet pricier option is something to look into. The Lilumia brush cleaning device can clean up to twelve brushes at one time and features five wash cycles. The device works by rotating your brushes along a cleaning disk to free excess makeup.
Doing your makeup in dark or dimly lit conditions can result in more mistakes causing for more time having to be spent on fixing them later. The right lighting can help avoid unwanted streaks and can give you a better idea of color appearances.
A mirror like this one from Conair is a classic option. The mirror has multiple panels allowing for more angles and it also features different lighting options. These light settings include evening, home, office, and day allowing you to adjust the lighting for any occasion.
Above all, staying organized is one of the best ways to tackle those extra minutes spent looking for products. Keeping all of  your makeup in one place is ideal and definitely beats having to go on a search.
"I put all of the makeup that I'm going to use the next morning in a makeup bag," said Allison Tracey, senior.
Designating a makeup bag for everyday storage is a good way to assure that you will be able to locate everything. There are plenty of brands, designs, and sizes to choose from so that you can find one that suits your needs.
Organization is unique for everyone so it's all about finding a method that works for you.
"I have three mason jars that hold anything from brushes, to eyeliners, to liquid lipsticks," said Courtney Berenschot, a former Hinsdale Central student who holds an interest in special effect makeup. "It keeps all of the products in one area, so it's really to see everything you're working with right in front of you."
By implementing these few helpful tools and tips, your routine will hopefully become a bit quicker and less stressful. Shopping for efficient products and staying organized can make all the difference.
Leave a Comment
About the Contributor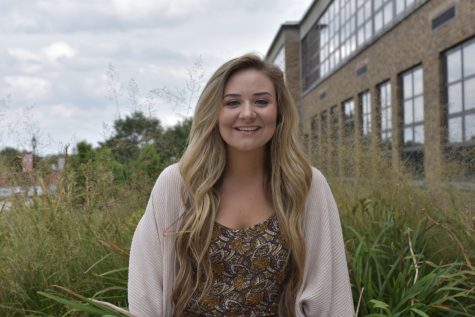 Holly Swasko, Writer
Known for her love of rose gold and cardigans, Holly Swasko, senior, will rarely be seen without at least one of them. When she isn't posing for an "OOTD"...