A look back on the style trends of 2016
With every year comes new styles and trends that sometimes fade away or often stay. As we approach a fresh new year, here's a look back on the top trends that came about in 2016.
Off the shoulder and cold shoulder tops
"A lot of this year's trends seemed to revolve around the neck and shoulders," said Nancy Allodi, founder of local Vintage Charm stores. "Off the shoulder and cold shoulder tops flew out of the stores."
This style of shirts seemed to rise in popularity in the Spring and have stuck around ever since, transitioning throughout the Summer and even into Fall. Bardot tops, another name for the off the shoulder style, typically feature an elastic or ruched neckline whereas cold shoulder tops feature cutouts that can span along the length of the sleeve.
Many silhouettes have come about as well. There are the flouncy, ruffled styles and then there are the more fitted ones.
Designers have been seen experimenting more and more with putting twists on classic styles; in this case, small changes on necklines and sleeves have shown their prominence this year.
Chokers
Going back to the focus on the neck and shoulders trend, the biggest trend in jewelry for this year has been the comeback of the choker necklace.
This trend has spiked in popularity as celebrities such as Kendall Jenner and Gigi Hadid have been spotted accessorizing with them for both red carpet events and more casual outings.
As the year went on, more variations have come about, like from subtle chain-link chokers to the bolder, more statement type styles.
Lace-up detailing
Another trend that has been frequently seen taking over both garments and accessories this year is lace-up details.
It's criss-cross pattern and small ties on the ends have been incorporated casual items such as sweatshirts and even leggings, thus becoming dressier in appearance.
"My favorite trend is the idea of lace-ups; like lace-up shoes, shirts, [and] pants. I think they're so pretty and can be very classy, which is important to me," said Nadia Mohideen, senior who participated in creative sewing and the independent study courses.
Part of what makes a trend so popular is the fact that they can be unexpected when added to otherwise basic items. For people who are looking for something a bit more than a plain pullover, for example, lace-up accents on the front or even in the back have been the go-to way to compliment several pieces this year.
Textured fabrics
As Fall has passed and with winter time in full swing, the use of textures like suede and velvet have expanded. Modern twists on these textures have also come about, with brightly colored velvet styles that have been on the rise.
"In Creative Sewing, textured fabrics also have been a huge hit; think velvet dresses, faux fur and plush fleece slip on sweaters and suede skirts," said Mrs. April McPhillips, sewing teacher.  "Jacquards, picture metallic woven floral prints, originally used for tapestries; think grandma's curtains, have made their way into clothing in the form of coats, skirts and dresses."
There were many styles that rose in popularity, and will hopefully carry on into the next. Going into the new year, don't be afraid to get inspired, try out new styles and have fun with all of the ones to come in 2017.
Leave a Comment
About the Contributor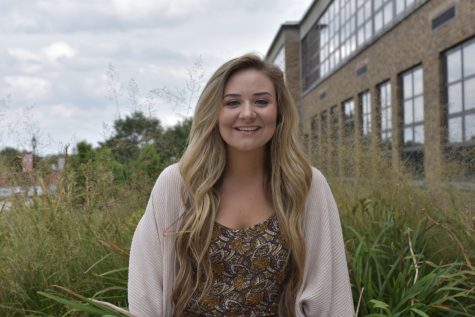 Holly Swasko, Writer
Known for her love of rose gold and cardigans, Holly Swasko, senior, will rarely be seen without at least one of them. When she isn't posing for an "OOTD"...