Pantone names vibrant Greenery as 2017's color of the year
As each new year comes around, Pantone, a well-known brand for color communication, selects a new color of the year, signaling the coming trends in many different industries including fashion. This year, the brand selected Greenery, a vibrant yellow-green shade.
The color Pantone selects is meant to symbolize the attitudes and overall happenings of the current year ahead. As there are many new things in store for 2017 especially after the recent election, Greenery's bold and refreshing vibrance is representative of new beginnings and boldness in many aspects of the world today.
It's noticeable that the new color is a dramatic shift from last year's softer pastels, Serenity and Rose Quartz. The baby blue and muted pink shades had shown their presence in everything from handbags to home furniture. However, Greenery is already starting to show its prominence just weeks into the new year.
"Serenity and Rose Quartz, the PANTONE Color of the Year 2016, expressed the need for harmony in a chaotic world," said Leatrice Eiseman, Executive Director of the Pantone Color Institute in a press release. "Greenery bursts forth in 2017 to provide us with the hope we collectively yearn for amid a complex social and political landscape."
A promotional video from the brand depicts the parting from the previous muted colors and the journey into a brighter, Greenery-clad environment emphasizing a new focus on nature. Throughout the clip, the color can also be spotted in the wardrobe of each character.
[youtube https://www.youtube.com/watch?v=8zC75u81VKg]
"Satisfying our growing desire to rejuvenate, revitalize and unite, Greenery symbolizes the reconnection we seek with nature, one another and a larger purpose," Eiseman said.
In terms of the up and coming clothing and beauty products, Greenery is going to be most prominent in both accent and statement pieces.
For a more subtle way to sport the shade throughout the year, nail polish is an easy way to incorporate it into your look. Popular nail care brand, Butter London, even released a Greenery nail polish in collaboration with Pantone.
"As for nail polishes trends, I'm sure we will see a variation of Greenery released in each nail polish collection from Spring to Fall. I know I'll be wearing it multiple times this summer for a tropical vibe," said Rebecca Rocha, New Jersey nail artist.
To make more of a statement with your look, Greenery is a good option for a pop of color in things such as jewelry, footwear, and even activewear. The basic rule of thumb when doing this is to tone down the rest of your outfit by sticking to the basics. This ensures balance and puts more emphasis on the stand-out shade.
Though it may be an unexpected choice when compared to the other neutrals selected in the past, its refreshing and down-to-earth feel is still appreciated.
"I like it because it doesn't look fake. It's more of an earthy color," said Ellie Guido, senior.
Fashion can be a great communicator of what's to come as well as a symbol of the positive feelings for the new year. To add an upbeat and exciting new layer to your wardrobe, be sure to try out Greenery.
Leave a Comment
About the Contributor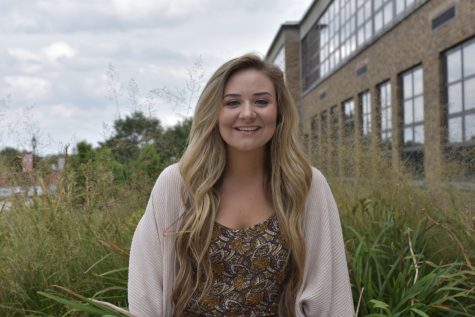 Holly Swasko, Writer
Known for her love of rose gold and cardigans, Holly Swasko, senior, will rarely be seen without at least one of them. When she isn't posing for an "OOTD"...