Winter's latest dress trends for Snowcoming
Snowcoming, this year's winter dance, is quickly approaching on Feb. 4. If you're in need of some semi-formal outfit inspiration, here are some tips and ideas to get you thinking about this season's best trends in dresses.
"It's going to revolve around everything winter," said Katie Hoffman, co-vice president of Varsity Club. "There's going to be decorations like snowflakes as well as ice skating."
Since the dance takes place in the mid-winter month of February, dressing appropriately for the season as well as the weather is important. You don't want to step out in a summer sundress nor do you want to look too festive in holiday colors. That's why finding a balance between these two seasonal extremes is the way to go.
Tip #1: Look toward the season's richer color palette.
Bright pastels are more for the springtime, so incorporating some richer colors into your look might be something you would like to try out this year. Royal blue, plum, wine, and mocha shades are some great examples of this season's trending colors in fashion.
"This winter, burgundy is the must-have color for formal winter dresses," said Michaela Sundholm, customer service representative for Lulus, a popular dress destination for students.
Also, if you're shopping online, many online stores will give you the option of shopping by color. This narrows down your search and allows you to see all of your available options right in front of you.
Some students look may also look to dressing according to the theme, so Snowcoming's color scheme is something students can also coordinate their outfits to, if they wish.
"If they do want to dress according to the theme, they could wear colors such as white or blue, but they can wear any color they want," Hoffman said.
Tip #2: Get inspired by metallics.
Metallics are one of the top stand-out textures for winter time. Most are neutral and easy to incorporate. Think gold or silver accents in accessories, footwear, or even in dress fabric. The hints of shine will add dimension and a little more glamour to your look.
Tip #3: Try a sweater dress.
Sweater dresses can be both seasonal and stylish during this time of year. Though some can be of heavier and chunkier knit, the key is to stick to a material that's made of cotton, linen, or even a blend of both. Materials like these are lighter in weight and will keep you cooler during the dance.
Tip #4: Try out sleeve details.
Sometimes it's the smallest of details that have the ability to add extra flair to your total look. The long sleeve trend is always popular in dresses this season along with different elements of design such as silhouette types.
"This winter, we have seen bell sleeves really become a trend," Sundholm said.
There is still plenty of time to shop and put together your perfect look. Going out to local malls or browsing online will help you source more inspiration to get you ready for the dance.
"At Yorktown Mall, there's Windsor and Von Maur. Those are two really good stores. I'm kind of picky, but they definitely have the most choices," said Jessica Rost, freshman.
Whether you choose to dress up or dress down this year, be sure to have fun at this year's Snowcoming!
Save the Date!
The Winter Dance is coming on 2/4/17!
7:30-10:30 pm
Tickets on sale soon for $10 each!
DJ, Dancing & Ice Skating included! pic.twitter.com/VccuYM6Fs0

— HCActivities (@HCHSActivities) January 13, 2017
Leave a Comment
About the Contributor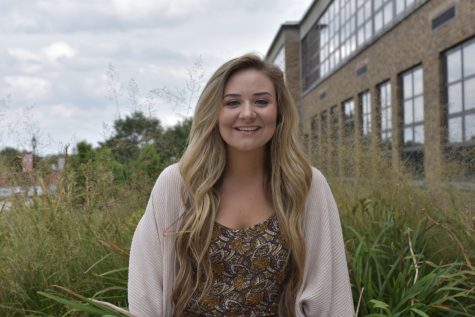 Holly Swasko, Writer
Known for her love of rose gold and cardigans, Holly Swasko, senior, will rarely be seen without at least one of them. When she isn't posing for an "OOTD"...