Activewear inspiration to update your gym class style
Since gym uniforms aren't required at Central, students have been responsible for providing their own clothing for the day's activities. If you're looking to update and refresh your gym class wardrobe, there are many new trends in today's activewear to look to.
Before selecting an outfit, there are a few requirements students must keep in mind in order to stick to the gym class guidelines.
"We just ask for rubber-soled shoes with laces and no buttons or zippers. So, things like sweatpants, workout athletic leggings, athletic t-shirts meaning no blouses. Also, no snaps or collars," said Mrs. Fawn Kwiatkowski, physical education teacher.
With those rules in mind, there still remains a lot of freedom as to what you can wear each day.
"I like that we're able to add our own style to it," said Ashley Rempert, freshman. "Sometimes [uniforms] don't fit well and I like that we're able to choose ones that fit better. It makes us feel more confident when exercising."
One common piece students rely on both in and outside of the gym are leggings. Though the go-to classic is the basic black legging, there are also plenty of other colors, patterns, and details that you can incorporate to mix up your look.
For example, panels or color-blocking on leggings are a huge trend in activewear. Details like these take a classic style and turn it into more of a statement piece.
In the winter months, it can often become cooler in the gym as well as other places where activities take place such as the dance studio and the wrestling room. To keep out the chill without compromising your ability to move freely, light pullovers can be a stylish option for warmth.
Activewear pullovers are versatile pieces that are easy to layer over other tops like your favorite t-shirt. They're also commonly made with technical fabrics to keep your temperature in check.
"I feel like hoodies were [popular] for some time, but pullovers are awesome. Thumb holes are also useful, popular, and important," said Mrs. Courtney Wallace, physical education teacher.
If you like keeping your clothes mostly neutral, adding a bolder wash of color to your footwear is a great way to brighten up your look, especially for spring time when the palette for fashion seems to shift.
In addition to shoes, smaller articles of clothing such as socks are also becoming a way to show style.
"People are definitely starting to kind of put their own style into their socks and I feel like there are so many brands now with Smartwool and a variety of other ones that are producing really cute socks but they have technical fabric," Mrs. Wallace said.
If you're in need of more inspiration, Fabletics is an activewear brand that has become a popular destination for students on the hunt for athletic styles. Kate Hudson, actress and co-founder, started the business as an online subscription service for workout outfits. Expanding into stores, one Fabletics location recently opened in Oakbrook Center on level one, across from Guess. They sell all types of workout gear from t-shirts to other items such as joggers and shorts.
How Kate Hudson Started Fabletics https://t.co/sfPSU2laN0

— House of Eleven (@House_of_Eleven) January 10, 2017
//platform.twitter.com/widgets.js
By shopping around, you'll find that wearing items that you like makes getting active even more enjoyable.
"Just have fun with your active gear. There are plenty of options," Mrs. Kwiatkowski said.
Keeping the guidelines in mind, you are sure to be successful in finding new gym outfits for the semesters to come.
Leave a Comment
About the Contributor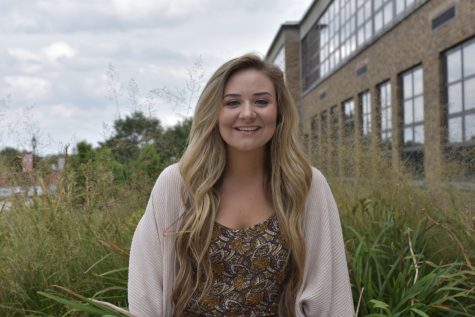 Holly Swasko, Writer
Known for her love of rose gold and cardigans, Holly Swasko, senior, will rarely be seen without at least one of them. When she isn't posing for an "OOTD"...