Student competes in FCCLA Recycle and Redesign fashion competition
Each year, members of the Family, Career and Consumer Leaders of America (FCCLA) club are given the opportunity to participate in several outside of school competitions. On Feb. 3, Gabi Delson, senior, competed in the Recycle and Redesign competition held at College of Dupage by designing her own dress made from recycled materials.
This event in particular was a STAR event (Students Taking Action with Recognition) and was Delson's second year competing in one. These types of events are designed to provide the opportunity for students to showcase their skills in various areas of family and consumer sciences such as culinary skills, teaching and fashion.
For Delson, the decision to compete was easy as she jumped at the chance to bring her memories of past trips to New Orleans to life through her passion for fashion design. The final result, being a dress that resembles a carousel, received second place along with an award for most outstanding.
"I visited New Orleans over winter break," Delson said. "My sister and I visited the abandoned Six Flags so I came up with the idea of the amusement park and how lively it used to be before hurricane Katrina, and how lively it could have been if it were ever restored or rebuilt."
Being made out of mostly recycled materials, Delson used items such as cardboard, Mardi Gras beads and paper straws to construct the dress.
To communicate the liveliness she remembers from childhood trips to New Orleans, she even added LED lights to the skirt as well as music by dismantling an old music box.
"Along with the dress being inspired by the abandoned Six Flags, it is also inspired by childhood memories of visiting family and experiencing the parades and live music everywhere," Delson said.
With the dress being the primary focus of her final product, something else she prepared for the competition was a board complete with pictures, and detailed descriptions of the planning and design processes. Delson had the chance to present these items to judges who then determined the awards.
"The dress is so creative and truly unique," said Genesis Batanes, senior and cousin of Delson's. "I would never think two completely different things, a dress and a carousel, combined would come out so beautiful."
Her passion for sewing has been a journey throughout high school beginning in her Intro to Family and Consumer Sciences class. The year-long class features a sewing portion, which is where she got her start. After, she was left wanting to learn more prompting her to experiment on her own sewing machine at home.
"It was during the summer where I just had this urge to sew and learn more about it. I had my mom dig up her old sewing kit from the '80s and all summer I was just trying out new things and making stuff out of old t-shirts," Delson said.
She then continued on to complete the creative sewing courses as well as the independent studies at Central.
"Throughout her four years at Central she has grown into an incredibly talented designer and sewing artist," said Mrs. April McPhillips, sewing teacher and FCCLA sponsor. "She has always had an open mind and a unique style which I think drives her creativity and desire to design garments."
In the future, Delson desires to continue pursuing her passions by continuing on to either the costume technology program at DePaul University or the fashion design program at Columbia College. As a career, she's interested in working on film or music video sets in wardrobe.
To see more of her creations, you can visit her Instagram page here.
Leave a Comment
About the Contributor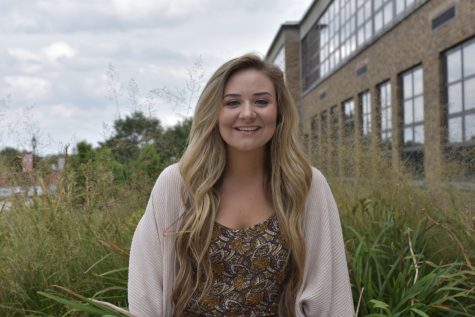 Holly Swasko, Writer
Known for her love of rose gold and cardigans, Holly Swasko, senior, will rarely be seen without at least one of them. When she isn't posing for an "OOTD"...