Salon search: Local spots for spray tanning services
With prom and spring break coming up, students are beginning to seek out the best places for hair, nail, and spa services. However, another service that has become of great interest to students is spray tanning prior to events. If you're looking for some local options, there are several spots to consider from smaller spas to larger chains in the area.
As awareness of the dangers of tanning beds and UV rays continue to increase, students are looking toward sunless options for tanning prior to events to prioritize their safety.
"I get spray tans instead of going to tanning beds because it's healthier and there aren't any health risks that go with it," said Alicia Tracey, senior who recommends Tan Express in Westmont.
A budget-friendly option: Palm Beach Tan (Willowbrook)
With special deals and frequent Instagram-exclusive promotions, Palm Beach Tan in Willowbrook makes it easy to save a little cash while walking away with good results. The salon features voice-prompting booths that guide you through the application process as well as many customizable options for shades tailored to complement your natural skin tone. The booths also feature heated dry time to prevent streaks and fading.
An organic option: Levato Salon (Hinsdale)
Levato Salon in Hinsdale is known for their natural makeup and hair products. They also offer spray tanning services and the product that they use on clients is organic as well.
"One of our trained tanning professionals applies the airbrush tan. The process takes 20-30 minutes and dries instantly," said Jessica Carlevato, the salon's media and event coordinator. "St. Tropez is well known for delivering a natural, golden glow. This is due to their unique blend of tanning agents and skin conditioning ingredients that work to the individual's skin tone to deliver a natural finish that will never develop orange."
A student favorite: Zone Tan (Westmont)
As a student favorite, Zone Tan in Westmont also uses voice-prompting booths for a quick and guided application. As many chains do, Zone Tan offers monthly membership packages that may save students money in the long run depending on how often one chooses to go.
"The tanning spray they use has no carotene, [which is] the stuff that makes you orange and because it doesn't, the tan looks natural," said Layla Byrd, junior who has a membership there.
Zone Tan also emphasizes how they strive for cleanliness and healthy, sunless sessions for clients each time they visit.
Prior to getting a spray tan, you should also keep in mind the procedures or guidelines you should follow before and after your appointment. These often vary with each location, however, some universal rules that apply include wearing no makeup or lotions beforehand and steering clear of contact with water during developing time.
In any case, it's always a good idea to check in with your salon of choice before you go to be sure of any other requirements that may be specific to the location. Taking the proper precautions will ensure the best quality results and appearance.
Though walk-ins are typically welcome, appointments tend to fill up quickly especially with end of the year events coming up. By planning ahead, you will be sure to get the perfect glow for wherever you may be headed.
Leave a Comment
About the Contributor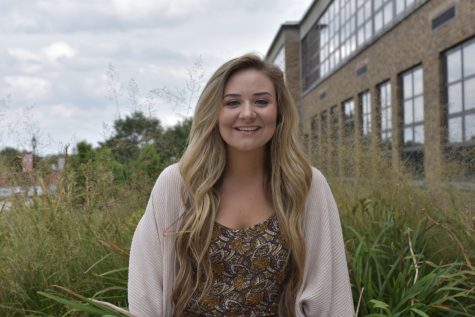 Holly Swasko, Writer
Known for her love of rose gold and cardigans, Holly Swasko, senior, will rarely be seen without at least one of them. When she isn't posing for an "OOTD"...