Prom style essentials for guys
As senior girls hunt for prom accessories and dresses before the big night that takes place on April 29, guys are also searching for their best tux and key pieces to look their best. To make sure all of the essentials are covered, here is a checklist along with some inspiration for guys looking to perfect their look.
"If I can move in it, it looks good, and I'm comfortable, then that's what I'm wearing," said Nicko Ledesma, senior. "When shopping I look for things that will complement the rest of my wardrobe."
The tuxedo
As most opt for renting tuxedos, there are several options to seek out in the area. Some popular suggestions are Men's Wearhouse, Black Tie Formalwear and Jos. A Bank.
Another option to keep in mind for prom or any other formal event is online rental. As long as you have your definite size measurements, you can rent any tuxedo with the help of websites like xedo.com from the comfort of your own home. Xedo is home to tons of designers and styles that you may not be able to find in one store, so sites like these open up options for your look and makes your shopping feel less limited.
"Xedo was created out of the belief that rental doesn't have to consist of ill-fitting tuxedos that are poor quality and inconvenient to obtain," said Xedo CEO Peter Abruzzo in a press release.
Tie
Whether it be a necktie or bow tie, his is the part of the look that guys typically coordinate with their date. If you're bringing along a date, be sure to communicate in advance so that you can select the best color to complement the look.
Shoes
If you're shopping for a new pair of dress shoes, top styles to look for include oxfords or leather loafers. Stylish elements like pointed toes, laces, and leather finishes make for a timeless simplicity that's sure to complement any tux.
Watches
Adding in an accessory is always a good way to dress up your look. As girls may look to rings and bracelets, guys often opt for a sleek watch to add a bit more style. If you don't already own one, there are an abundance of styles available at stores such as Kohls or Macy's. By browsing different stores, you will be able to find one that's in your price range.
"A watch signifies what kind of man you are, so a nice watch is the most important item needed," said Hamzah Choudry, senior.
There's still plenty of time to shop, so be sure to keep these pieces in mind when it comes time to put the finishing touches on your look.
Leave a Comment
About the Contributor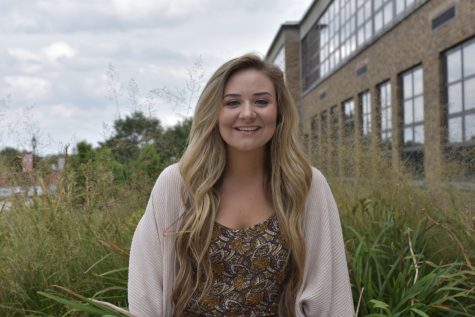 Holly Swasko, Writer
Known for her love of rose gold and cardigans, Holly Swasko, senior, will rarely be seen without at least one of them. When she isn't posing for an "OOTD"...