Back to School 2017: Fall Essentials
As the new school year kicks off and fall approaches, the changing weather means a new set of essentials is needed for the smoothest transition between summer vacation and school. Here are the top fashion necessities to help you get in gear for fall.
Clothing:
Sweaters:
A pullover sweater is essential for going back to school. We're at the point in the year where it's cold during the mornings and evenings, but hot during the day. Also, at school, some classes are freezing, and some are blazing hot. The quickest fix for that is a pullover sweater that can go over any top you wear and be taken on and off as the day goes by. My personal favorite place to buy sweaters is on Etsy.com, particularly vintage sweaters. If you want to buy something new, Urban Outfitters sells cozy sweaters that give off the same look.
Jeans:
Jeans are a must for school. Yes, they can get a bad reputation for being annoying, but a pair of jean leggings is both stylish and easy to wear.
Although mom jeans might not be everyone's cup of tea, they are in style right now. Also, they're easy to wear. A pair of mom jeans and a plain t-shirt can make a simple yet chic outfit for school.
Tops:
Even though uniquely patterned tops are fun to wear, it's the basics that are necessary for school. To have plain white, black, and/or gray t-shirts in your closet to match any outfit is crucial for creating quick and easy back to school looks.
Accessories:
Jewelry:
School may not be the best place to showcase your favorite bling, however having simple yet staple pieces of jewelry add the perfect finishing touch to any outfit.
Shoes:
Having a staple pair of shoes that you will walk around in all day should not be overlooked. It is definitely possible to get blisters in just a five-minute walk to class, so having a stylish yet practical set of sneakers is my favorite go-to.
Despite all of the bigger, more expensive pieces that you need to get, never forget about the basic fundamentals for surviving the fall.
"My top essentials would have to be a hair brush, mascara, and chapstick for the colder weather," said Lana Elzein, freshman.
No matter what your essentials are, make sure to wear what makes you feel most confident this fall season because that is what fashion is all about.
Leave a Comment
About the Contributor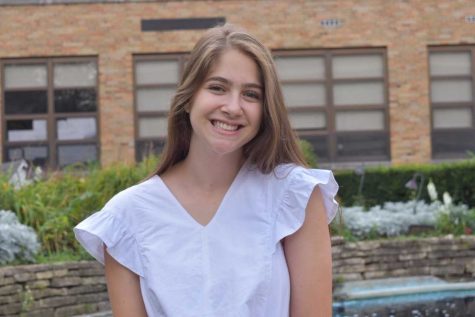 Thea Sankari, Section Editor
Thea Sankari is a senior whose sense of humor consists of nothing but dad jokes. You can catch her in the band room or binge-watching "The Office". She...