8 outfits from the 1980s: Get the look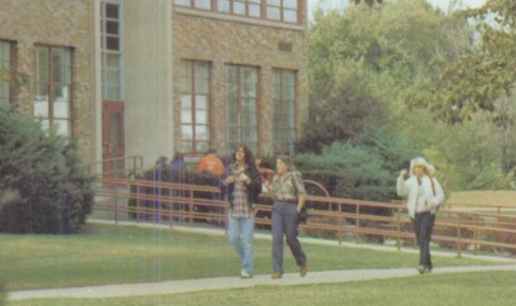 Homecoming, scheduled for Sept. 16, has a 1980s theme, so I've decided to go through all of Central's old '80s yearbooks to recreate some of the chicest styles of the decade. Here is the perfect throwback guide to get you in the '80s mood.
1980:
Mary Crosby, senior, is pictured doing homework and laughing with her friends in 1980. Wearing a preppy outfit, she exemplifies the perfect end of '70s into '80s look. On the right hand side, my blazer is from Zara. While it doesn't have the one I am wearing anymore, Zara has a similar one to what she is wearing in the photo. Underneath the blazer, she is wearing a reddish-brown high neck sweater. Open to interpretation, you can either wear a red or brown sweater. I wore a red one from Forever 21. Underneath her sweater, she is wearing a blue flannel. Make sure to get a tighter fit flannel, and not an oversized one, so it won't be too baggy under your clothes. Mine is from Urban Outfitters. Though I am not wearing jewelry in my recreation, to match her long, gold, layered chain necklace, a Forever 21 necklace gives off the same feel but has a pendent to give the look your own personal flare.
1981:
This unnamed junior is sitting in a hallway reading a book. Wearing an all-white, simple, sweet outfit, this student exemplifies the simple times of the '80s. To give the outfit a bit of a modern flare, I wore a shorter white dress from Urban Outfitters to give off the same look, that is still stylish in 2017. A classic white cardigan gives a touch of warmth to the outfit. Mine is from Forever 21. A simple white bow holds her hair back in a cheekbone-defining half-up, half-down hairdo. Forever 21 sells inexpensive bows similar to what she is wearing. Simple black flat loafers give the all-white outfit a pop of another basic color. Loafers are trendy in 2017, so they add a bit of a modern-chic look to the outfit. Mine are from Romwe, but a closer lookalike can be found at Lulus.
1982:
Mary Gill, senior, is sat taking a test. Wearing a classic vintage look of overalls and a turtleneck with a pair of Adidas sneakers, Gill showcases pieces that were fashionable then and still are fashionable now. I wore short overalls because in 2017 wearing full-length overalls can look somewhat 'farmer-ish.' Mine are from Zara, but it doesn't carry them anymore. Similar ones can be found at Lulus. The thinner material of an Urban Outfitters turtleneck makes the outfit breathable, and the shorter neck makes it easier and more comfortable to wear around school, while still giving off the same vibe. For such an inexpensive pair of sneakers, time tells that these Adidas shoes never go out of style.
1984:
Susan Berardi, senior, poses goofily for a picture in this basic outfit. Although not exact, my top is from Forever 21. Any simple pair of black, highwaisted jeans will go with this outfit. Although mine are not really showing, they are from Abercrombie and Fitch.
1985:
Leslie Miller, sophomore, styles a simple yet adorable outfit while walking down the halls. Because the photo is in black and white, a gray or black cardigan that is long with big buttons will work with this outfit. A perfect lookalike to the one shown is from Forever 21. Any white dress will work underneath the cardigan. However, a plain white t-shirt dress from Lulus is the most comfortable for school. Any beaded, mid-length necklace will do. One most similar to the original can be found at Francesca's. To finish off the look, wearing a black cross-body bag from Topshop adds a bit of a modern touch to a classic look.
1986:
Tracy Wilcox and Amy Chramosta, seniors, show how excited they are for their final year of high school. For the outfit on the left, the white turtleneck sweater and black jeans are from Abercrombie and Fitch , and the white shoes are Vans. For the outfit on the right, while not completely exact, a similar shirt to the original can be found at Etsy, the same black Abercrombie and Fitch jeans match, and the shoes are Vans.
1987:
Amy Nerad, senior, cheers on the football team in this cute and sweet outfit. Since the cheerleaders' uniforms don't look like this anymore, this outfit can be worn to a football game, basketball game, or anywhere you want to show some Central pride. My skirt is from American Apparel and my sweater is just school spiritwear. Mine is sold at games, occasionally in the cafeteria, and sometimes at stores in downtown Hinsdale. Lastly, my shoes are Nike.
1989:
Julie Mason, senior, kicks back and enjoys a perfect school day. My pants are just light-wash jeans from Forever 21. My sweater is a simple gray, cowl-neck sweater from Forever 21. Combat boots can be found anywhere, however mine are from Nordstrom.
The nicest thing about recreating these outfits was that I didn't have to go out and buy anything. I found all of these pieces right in my closet, mainly because I dress like a Full House character, but also because the '80s are making a fashion comeback.
"I feel that '80s fashion is making a comeback and that all fashion trends from the late 1900s are coming back one way or another," said Jamison Fowler, junior. "I personally love that it's coming back because it allows me to explore totally different styles."
Have fun creating your own '80s outfits, but remember to be confident in whatever you wear, since that is what fashion is all about. Be safe this homecoming week, and enjoy playing with some vintage looks.
Special thanks to El Diablo yearbooks.
Leave a Comment
About the Contributor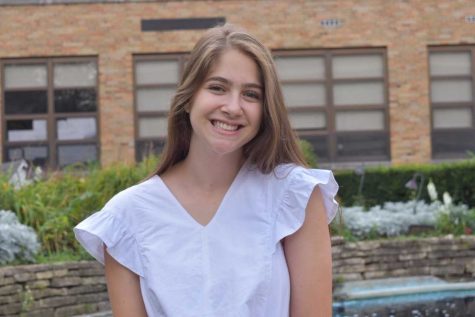 Thea Sankari, Section Editor
Thea Sankari is a senior whose sense of humor consists of nothing but dad jokes. You can catch her in the band room or binge-watching "The Office". She...