Boys' soccer loses first conference match against rival York
The boys' varsity soccer team lost their first conference match of the season 5-1 on Tuesday, Sept. 12 when they hosted York High School on Centennial Field. The loss moves the team's record to 8-2-1 on the season. This is still over the .500 mark, but their conference record fell to 0-1.
Players were hoping to perform well and come out with a win to start off the season with a good conference record, but they had some obstacles during the game that prevented them from succeeding.
"It was a tough loss for us, but it was only our second loss this season," said Parker Korin, senior. "We played physical and got some good looks, but we just couldn't break through. We had difficulty containing their attacking players."
After being down 3-0 for the majority of the first half, Brady McKay, senior, scored to pull Central within two goals right before the end of the half. Although the team tried carrying momentum into the second half, a quick York goal diminished any hope of winning.
Although the team is now 0-1 in conference games, some players are trying to make light out of their total record so far this season.
"Our record in my opinion is very unnoticed. We are a team who has already played 11 games, and our record is 8-2-1, which is a great start to a season," McKay said. "What the juniors and sophomores don't understand from what we seniors do is that we are getting off to a much faster start compared to last season, which is great news down the stretch with the playoffs."
The team will look to learn from their mistakes and move past the loss.
"We take time to meet after any game that we play in and take an opportunity to review things. Yesterday, we had a film session, which is a chance to review things," said Mr. Mike Wiggins, head coach of the team. "We also took time to discuss what we did well and didn't do well. We are going to put the negative behind us."
As for the team, they will continue developing relationships in hope for a successful season.
"We have been developing chemistry as a team on and off the field by getting to know each other as players as well as people. Practicing every day helps develop strong connections as players, where having team breakfasts and dinners helps off the field," McKay said. "Also, many of these younger guys are new to the system, but things are starting to click, and it's going to be really exciting come late October."
In the upcoming future, the team will look to play Naperville Central on Friday, Sept. 15, Glenbard West on Tuesday, Sept. 19, and Lyons Township on Friday, Sept. 22. After this three game stretch, the team will travel to Iowa to participate in the Go 4 the Goal Classic, a tournament which includes some of the best soccer teams in the country.
Leave a Comment
About the Contributor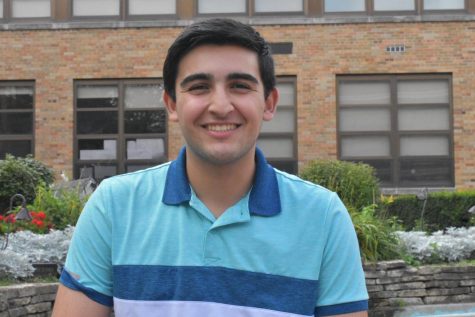 Ali Ardehali, Section Editor
Ali Ardehali, section editor for sports and A&E, is a senior who dedicates much of his time keeping up with the sports world. Despite recent struggles...