Top 5 reasons to love fall fashion
Although the weather has still been pretty warm recently, fall is in full swing, and the best way to embrace the changing weather is through fashion. Here are the top five reasons to love fall fashion.
The Color Burgundy
The color burgundy completely embodies fall, which is why this is the prime season to wear it. Burgundy is personally one of my favorite colors, so I always buy burgundy pieces throughout the year and only get to wear them during the fall. Because of that, on a fall day, you can almost always catch me wearing this color. The deep hues of it give you a warm feeling, and the red can't help but remind you of the beautiful trees outside. The nice thing about this color is that it looks good on everyone, and everyone can rock it. You can wear burgundy dresses, scarves, sweaters , and you can even accessorize with a burgundy scrunchie.
Sweaters
Sweaters in general are the best, most comfy, things in the entire world. It's such a shame that we can't wear them all year long, but fall is the perfect time to break out your favorite knits after a sweaty summer. My personal favorite types of sweaters are turtlenecks, because they give your outfit a bit of a twist, and you don't have to ever worry about showing too much cleavage for school. And not only are sweaters great, but hoodies -of course- are welcome. They are able to be dressed up or down, and on cold, fall days, they are so easy to throw on for school.
Playing Around With Different Fabrics
Getting to wear unique fabrics is one of the most exciting parts about entering a new season. In the summer, you are limited to very light, airy fabrics that are designed for you to not overheat. However, in the fall or during the colder months in general, you get to play around with different fabrics. My two favorite fabrics to wear in the fall are corduroy and suede. These two fabrics trap heat, so they're perfect for staying warm in the colder months. Corduroy is a particular fabric to style, so your safest bet is a corduroy skirt. Corduroy skirts have been trendy recently, so they can be found at almost every store, in a selection of colors. Suede, on the other hand, can be incorporated into different dresses, tops, and even baseball hats. Just like with corduroy, suede can be worn in all sorts of different colors.
Booties
Booties are personally my personal favorite choice of footwear in the fall. You can't wear them in the summer because they make your ankles sweat (which is the weirdest feeling), and you can't wear them in the winter without fearing that just one snowflake will completely ruin them, thus making fall the perfect time to wear booties. Booties are unique because they don't change the shape of your leg, unlike other types and lengths of boots. Booties normally cut off at your ankles, so they never ruin an outfit or make your calves look weird. You can either wear booties that are flat or that have a low heel on them. Either way, they are comfortable and stylish.
Denim
Denim is the most versatile piece on this list. It can be worn in jackets, jeans, skirts, and dresses to make any outfit pop with blue. Because a good quality denim can be slightly heavy, it can be hard to incorporate it into your summer wardrobe, but perfect to incorporate into your fall wardrobe. Denim is also a piece that you can either dress up or dress down. Different washes of denim is another thing that you can play around with. Denim is a staple piece in everyone's closet, so many stores sell it for many different prices.
Everyone has their own personal touch to their fall fashion that gets them in their autumn mood.
"Cardigans are my go to for fall because they keep you warm. You can wear them over any outfit, cute or casual, and they're super soft," said Ambika Sharma, junior.
No matter what you rock this fall, make sure to have confidence in what you wear, because that is what fashion is all about.
Leave a Comment
About the Contributor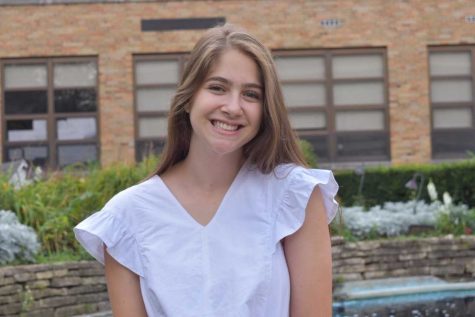 Thea Sankari, Section Editor
Thea Sankari is a senior whose sense of humor consists of nothing but dad jokes. You can catch her in the band room or binge-watching "The Office". She...