Riverdale: Get the look
The CW's most recent hit Riverdale returns for its second season on Wednesday, Oct. 11. To prepare you, I've recreated a few classic outfits worn by the main characters of the show, who were based off the Archie comics: Betty Cooper, Jughead Jones, Veronica Lodge, Archie Andrews, and Cheryl Cooper.
Outfit 1: Betty Cooper
Betty always goes for a classic, preppy yet casual, look. In this outfit, I'm wearing a white tank top and a pastel cardigan, along with some dark wash blue jeans. Recreating this look is simple, and recreating some of her others is simple as well, since she wears many pastels and basics. In the show, she wears this outfit with gray booties; however, I just paired it with some white Vans to make it more wearable during school. For makeup, Betty always goes pretty natural, and for hair, she does a classic ponytail.
Outfit 2: Jughead Jones
Jughead, though obviously a guy, has outfits that can be worn by both guys and girls. For example, his classic gray beanie, when styled correctly, can look cute and has a fall feel. In addition to that, his white-faux-fur-lined jean jacket is trendy and can be found from a variety of stores for many different prices. Any shirt underneath would work, but I paired this outfit with a black and white flannel. My jeans are just dark wash blue jeans, and my shoes are Vans.
Outfit 3: Veronica Lodge
Veronica has a classic, chic look to her. She wears dresses, black, and pearls. In my recreation, I am wearing a black button up jean skirt, paired with a plain black short-sleeved bodysuit from Lulu's. An inexpensive pearl necklace can be found at Target . Almost always wearing heels, a similar and inexpensive pair to Veronica's can be found at Forever 21. However, to make this outfit a bit more wearable, I just paired it with black booties. Veronica also goes for natural makeup looks, but she never forgets to have a dark, bold lipstick on. In addition to that, she naturally has full eyebrows, but a product to make sure that they are always thick looking is the Benefit Gimme Brow.
Outfit 4: Archie Andrews
Archie has little to no originality when it comes to clothes. He is always found wearing a letterman jacket, a white shirt underneath, and jeans. However, everyone loves a basic outfit from time to time, and it is always a go-to for life. I'm wearing a red varsity jacket to give the outfit some Central pride, rather than his classic blue and yellow jacket. A red varsity jacket is a good investment because this outfit can be recreated for football games, when you need to bundle up as the weather gets colder. Underneath that, I'm wearing a plain white t-shirt from Urban Outfitters. My dark wash jeans are from Abercrombie and Fitch. Any pair of sneakers would work with this outfit; mine are just slip-on Vans.
Outfit 5: Cheryl Cooper
Cheryl is almost always wearing either red or black. The outfit that I am wearing is a simple black turtleneck with a dark green skirt. This outfit is both classic and wearable in the fall/winter because of the dark colors. If it is cold outside, you can pair this with black tights to give your legs some warmth. Since this outfit is a bit nicer, I paired it with a simple pair of black booties that are both affordable and comfortable. For Cheryl's makeup, she goes pretty natural on the face, with voluminous, thick lashes, and a red lip. As for her hair, she usually is wearing it parted to one side with the ends in big, bouncy curls.
"My favorite part about the outfits is that every single character is brought to life in a way that is completely unique to them," said Raabia Sheikh, junior. "That's the best part, fashion doesn't have to be a certain way, it's a way for the directors and characters to reach an audience and tell them more through something as simple as clothing."
At the end of the day, no matter how you recreate these outfits, just have confidence in what you wear, because that is what fashion is all about.
Leave a Comment
About the Contributor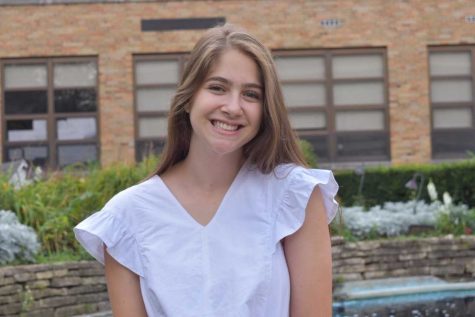 Thea Sankari, Section Editor
Thea Sankari is a senior whose sense of humor consists of nothing but dad jokes. You can catch her in the band room or binge-watching "The Office". She...