Girls varsity tennis takes third at State
On Saturday Oct. 21 at Buffalo Grove High School, the girls varsity tennis team placed third in the state.
State compiles all of the best players from a state into several meets.
The girls are in the 1A and 2A divisions, which depends on location. Due to the competition's magnitude, the girls have a couple traditions before they go play in or watch the tournament.
"The day before State we go to dinner as a team at Giordano's and get our nails done together. That's been the tradition for years," said Sarah Badawi, sophomore and team member.
Before State the team had selected six players to play at sectionals in order to win and advance to the State Finals. The school selected six girls for sectionals, and five in total made it to the finals on Saturday.
The five girls that played at State were Badawi, Amanda Cashman, Alexis Hamdan, Olivia Oosterbaan, and Kasia Treiber.
"I placed fourth in doubles [with Badawi]," said Treiber, freshman and team member. "I like playing doubles because it gives me a chance to have someone on the court with me to support me or talk to me and tell me what I'm doing right or wrong."
Despite not finishing first, team members said they are proud they made it so far during the 2017 season.
"State this year definitely had a lot of ups and downs, but it was really fun. Tennis isn't usually played as a team sport, so having a cheering, positive atmosphere was awesome," said Oosterbaan, junior and team member. "I did really well. I got to the round of 16 and quarterfinals of the backdraw. [I finished] in the top 12. I was really proud because there were a lot of senior top competitors, and a lot of them are committed to Big 10 schools for tennis. The tournament is always fun because you get to play girls that you've practiced and been friends with forever, since the tennis circuit in Illinois is very well known."
The girls have won State the last four years, and this year's trophy is yet another accolade for them to celebrate. Although the girls season is over, the boys tennis team will be kicking off in early April in hopes of matching the girls success.
Leave a Comment
About the Contributor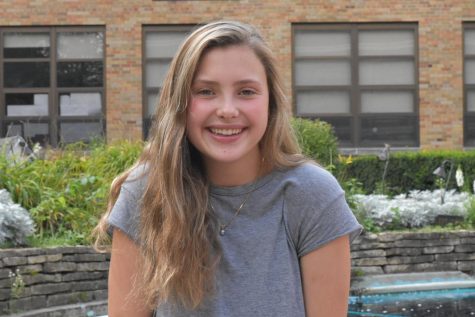 Leah Stevens, Section Editor
Leah Stevens is a senior who is constantly seen with a smile on her face and she loves to make people laugh. She lives by the motto "YOLO", and if you...